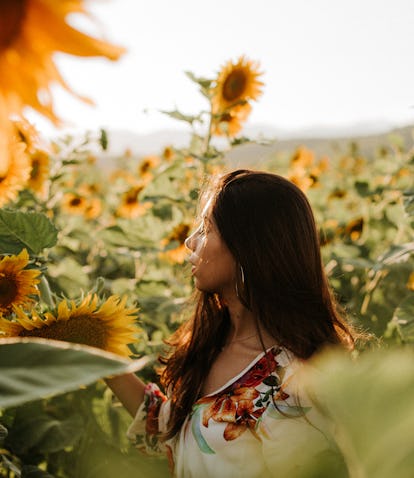 23 Captions For Every Flower Child's Sunflower Snaps
Make your pics extra special!
The warm weather of spring and summer is all about embracing the sunshine and wearing sundresses that have been waiting to make their debut from the boxes they were shipped in. Frolicking in a field of flowers may have only been a vision you visited when those temperatures were plummeting, but you're about to make them come true soon enough. Clearly, ecstatic euphoria is going to transcend from all of your pics, but Instagram captions for sunflowers need to be extra special.
The winter may have temporarily silenced that flower child in you, but the warm weather is when that flower child makes a comeback. Sunflower fields are super enchanting, and you could run up and down the rows all day. The way those bright yellow petals look as they're absorbing all of those sunny rays is something you won't ever forget.
Snapping pics is a must, because those gorgeous sunflowers deserve a mini photo shoot, along with your sundress and cute floppy hat. Oh, and don't forget those adorable cowboy boots you've been dying to wear. When sunflower season is upon you (usually more throughout the summer and into early fall), allow your true flower child to sprinkle some more magic on those amazing pics with any of these amazing sunflower Instagram captions.
"Never look directly at the sun. Instead, look at the sunflower." ― Vera Nazarian
"A sunflower field is like a sky with a thousand suns." ― Corina Abdulahm-Negura
"The sunflower is mine, in a way." ― Vincent van Gogh
"Despite knowing they won't be here for long, they still choose to live their brightest lives — sunflowers" ― Rupi Kaur
"If you take a flower in your hand and really look at it, it's your world for a moment." ― Georgia O'Keeffe
"Every flower is a soul blossoming in nature." ― Gérard de Nerval
"The butterfly is a flying flower,The flower a tethered butterfly." ― Ponce Denis Écouchard Lebrun
"Every flower blooms at a different pace." ― Suzy Kassem
"Be like a flower and turn your face to the sun." ― Kahlil Gibran
"Hidden inside every flower are seeds of imagination, destiny and future dreams." ― Sondra Faye
"Happiness held is the seed; Happiness shared is the flower." ― John Harrigan
"Wherever life plants you, bloom with grace."
"Tomorrow may rain, so I'll follow the sun." — The Beatles, "I'll Follow The Sun"
"Keep your face to the sunshine and you cannot see the shadows. It's what the sunflowers do." — Helen Keller
"I've got sunshine on a cloudy day." — The Temptations
"When a flower and a child come together, it makes two flowers or two children because every child is a flower and every flower is a child!" ― Mehmet Murat ildan
"Wherever you go, no matter what the weather, always bring your own sunshine." — Anthony J. D'Angelo
"Always look at the brighter side of life, just like the sunflower which looks upon the sun, not the dark clouds."
"If I were a flower.. I would be a sunflower. To always follow the sun, Turn my back to darkness, Stand proud, tall and straight even with my head full of seeds." — Pam Stewart
"Stand tall and face the sun."
"Let us dance in the sun, wearing wild flowers in our hair..." ― Susan Polis Schutz
"What a lonely place it would be to have a world without a wildflower!" ― Roland R Kemler
"Let a hundred flowers bloom." — Mao Zedong
This article was originally published on