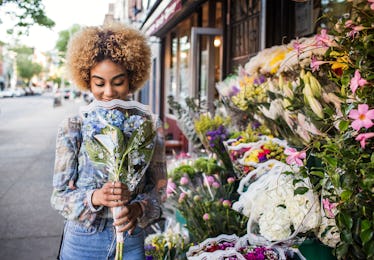 30 Catchy Flower Captions That'll Bloom On Your Instagram Feed
If you've stopped to smell the roses, you know how absolutely gorgeous (and Instagram-worthy) they are. Whether you always love picking up a fresh bouquet at the market, or consider yourself to be a flower child at heart, you know all the precious buds were meant to be loved and appreciated. Whenever a #FloralMoment presents itself, you should be ready with some catchy flower captions, so you can post on IG right away.
You never know when you might come across a dreamy field of wildflowers on a road trip, or stumble upon a picture-perfect moment when you're walking your pup. When Mother Nature is outdoing herself, it would be a shame to not take a snapshot to make those moments last a lifetime.
Capturing a gorgeous picture is the easy part. The real roadblock is trying to come up with a cute caption. You've seen pretty much every flower pun the internet has to offer. Posting a bunch of flower emojis for your caption is just not cutting it for you anymore, either. Instead, you need flower captions for Instagram that are unique and will catch your followers' eyes right away.
You want everyone to stop and admire your posts like they're a bouquet of flowers. So, here are 30 flower captions for you to use. Pick one that will perfectly pair with whatever floral arrangement you have going on. That could be your floral sundress selfie or dancing-in-a-field Boomerang. Now that you've taken care of the caption, you're ready to enjoy whatever blooms are about to grow your way.
1. "Oopsy daisy."
2. "Flowers don't tell. They show." — Stephanie Skeem
3. "Once and floral, I've made up my mind."
4. "I'm too busy working on my own garden to notice if yours is greener."
5. "Oh snapdragon, I'm loving this lewk."
6. "This love is blooming."
7. "Damndelion, I'm looking fine."
8. "I'm hoping thistle cheer you up."
9. "Just like a flower, I have to be where the sun shines."
10. "I lilac days like today."
11. "Here comes the sunflower."
12. "There's not a daisy that goes by where I don't think of you."
13. "Roses are red. Violets are blue. If you were a flower, I'd pick you."
14. "What in carnation is going on here?"
15. "You can grow your own way. [insert musical note emoji and flower bouquet emoji]"
16. "Make each day a lily more better than the last."
17. "We'll be planted right here."
18. "You grow, girl."
19. "Help! I've pollen and I can't get up."
20. "Thistle be the best day ever."
21. "Have you bot-any any flowers lately?"
22. "I picked a good one."
23. "You've got to let your dreams blossom."
24. "Like a flower, I have a season to bloom."
25. "I'm not waiting around for someone to buy me flowers. I'm gonna buy my own dang flowers."
26. "I don't just stop and smell the roses. I stop for every single flower I see."
27. "Bloom baby, bloom!"
28. "I love you tulip much."
29. "If I were a princess, my crown would be made of flowers."
30. "I've never seen anyone turn down a bouquet of flowers. Just sayin."
This article was originally published on