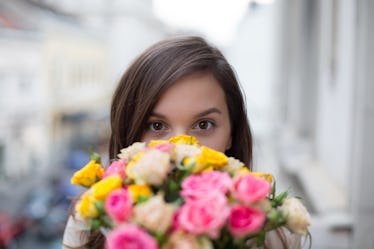 21 Instagram Captions For Your Flowers On Valentine's Day If You're Blooming With Love
I don't care how jaded you think you are about Valentine's Day, it's impossible not to get a excited and feel the love when the flower delivery person shows up with bouquet of flowers with your name on the card. Is it cheesy? Sure. But sometimes it's OK to just give in and embrace the traditional romance. Plus they smell so good! The only question is, what should your Instagram captions for your flowers on Valentine's Day say? Because, let's be real, the very next thing you do after texting the sender a sincere thank you is snap a pic and share those blooms with the world.
I mean, does the bouquet even exist if it's not on Insta? Let's not take that risk.
If you're someone who is all-in on Valentine's Day, you may have already mentally composed your caption. But for the rest of us, it never hurts to get a little outside inspiration. The flowers are such a sweet and loving gesture, you want to make sure that you do them justice by posting a caption that lets the sender know how much they really mean to you. It can be funny if that's your jam, or it can be sappy if words of affection are your love language. The point is just to let bae (and the world) know that you are really feeling the holiday love. So here are some Valentine's Day flower caption ideas to help get you started.
Sweet And Sentimental Captions For Your Valentine
1. Ever since I met you, it seems like everything has come up roses. And today, that's literal. Happy Valentine's Day, my love!
2. My [man/woman] just added a dozen more reason why they're the best. Love you, babe.
3. These are from the person that makes my heart bloom every day. Happy Valentine's, babe.
4. It seems like every day, our love blossoms even more.
5. In all the world, you're the one I will always pick to be my Valentine.
Not-So-Sentimental Captions, If You Don't Go For All That Mushy Stuff
6. OK fine, I changed my mind, Valentine's Day is amazing.
7. Literally the only flowers that mean more to me than a blooming onion. Speaking of which, where we going to dinner?
8. Wow, you really rose to the occasion with these… and you'll be rising to the occasion again tonight for your special Valentine's Day gift from me.
9. I didn't think I liked this holiday, but damn you nailed it. I love you bunches, Valentine.
10. I finally get why Valentine's Day is such a big deal. Happy V-Day, love!
You Can't Go Wrong With A Quote Caption
11. "If I had a single flower for every time I think bout you I could walk forever in my garden." — Claudia Adrienne Grandi
12."Love is the flower you've got to let grow." – John Lennon
13."Flowers don't tell, they show." – Stephanie Skeem
14. "Love planted a rose, and the world turned sweet." – Katharine Lee Bates
15. "Happiness held is the seed; Happiness shared is the flower." — John Harrigan
You Can Aways Opt For Something A Bit More Punny
16. Thanks for knowing how to make this daisy so special.
17. Today would really succ(ulent) if I couldn't spend it with you.
18. This is what happens when you never stop beleafing in love.
19. I knew you were the one from the very first moment our tulips met.
20. They say every rose has a thorn, but with you I managed to avoid a big prick.
21. Having you as my Valentine is A-bouquet with me.
Hopefully you're feeling plenty inspired. And with your caption on lock, you're free to go spread more Valentine's Day love. And more love is exactly what we all need right now.