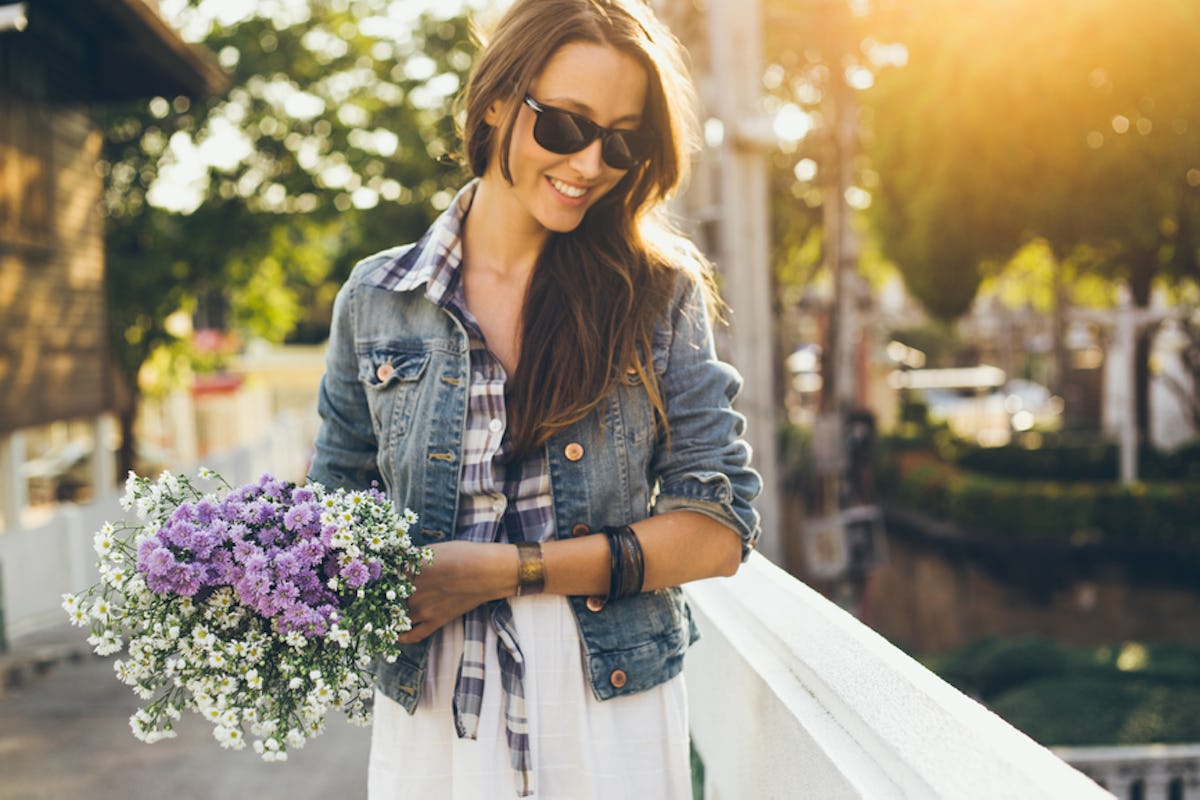 27 Quotes For Your Vibrant Bouquet Pictures That'll Give You Spring Fever
Spring is almost in bloom. That means pretty soon, the white and grey colors of winter will be replaced with a very vibrant floral filter our social media feeds won't be able to get enough of. I personally can't wait to see all of the beautiful flowers that spring has in store for us. The beginning of the season just calls for a gorgeous bouquet to place in your windowsill. Don't forget to snap a pic or two of that colorful arrangement, and caption it off with one of these flower quotes for Instagram.
You know all of your friends will love seeing the vibrant colors of tulips, hydrangea, daffodils, lilies, and bluebells fill up their feeds after this dreary winter. I'm getting spring fever just thinking about how gorgeous those Insta pics will be.
To make sure your fresh bouquet stands out among the rest, consider pairing it with one of these 27 flower quotes for the caption. I've already assembled them for you, so all you have to do is choose the right one that speaks to you, and then watch the likes come blooming in. Don't forget to tell Mother Nature thanks a bunch for providing us with something so gorgeous to see.
1. "Where life plants you, bloom with grace." — Uknown
2. "She sprouted love like flowers, grew a garden in her mind, and even on the darkest days, from her smile the sun still shined." — Erin Hanson
3. "Like wildflowers; you must allow yourself to grow in all the places people thought you never would." — E.V
4. "She is like a wildflower; beautiful, fierce, and free." — Unknown
5. "Happiness blooms from within." — Unknown
6. "A flower does not think of competing with the flower next to it. It just blooms." — Zen Shin
7. "If you look the right way, you can see that the whole world is a garden." — Frances Hodgson Burnett
8. "Somedays, I am the flower. Somedays, I am the rain." — Pavana
9. "Flowers grow back, even after they are stepped on. So will I." — Unknown
10. "With grace in your heart and flowers in your hair." — Mumford and Sons, "After The Storm"
11. "If I had a flower for every time I thought of you... I could walk through my garden forever." — Alfred Lord Tennyson
12. "You're only here for a short visit. Don't hurry, don't worry. And be sure to smell the flowers along the way." — Walter Hagen
13. "Normality is a paved road; It's comfortable to walk, but no flowers grow on it." — Vincent van Gogh
14. "Advice from a sunflower: Be bright, sunny and positive. Spread seeds of happiness. Rise, shine, and hold your head high." — Unknown
15. "After women, flowers are the most divine creations." — Christian Dior
16. "Your soul is attracted to people the same way flowers are attracted to the sun, surround yourself only with those who want to see you grow." — Pavana
17. "Like flowers, we can also choose to bloom." — The Goddess Rebellion
18. "I will not be another flower, picked for my beauty and left to die. I will be wild, difficult to find, and impossible to forget." — Erin Van Vuren
19. "The earth laughs in flowers." — Ralph Waldo Emerson
20. "Spring: A lovely reminder of how beautiful change can truly be." — Unknown
21. "May the petals teach me the art of letting go." — Xan Oku
22. "Flowers can't solve all problems, but they're a great start." — Unknown
23. "Bloom where you're planted." — Mary Engelbreit
24. "I must have flowers, always and always." — Claude Monet
25. "I'd rather have roses on my table than diamonds on my neck." — Emma Goldman
26. "When in doubt, add flowers." — Unknown
27. "There are always flowers for those who want to see them." — Henri Matisse
This post was originally published on Feb. 19, 2018. It was updated on Aug. 30, 2019 by Elite Daily Staff.