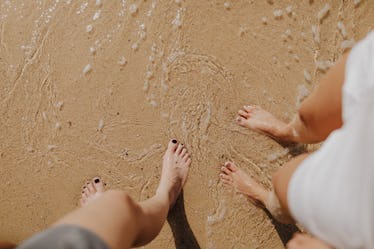 Your IG Needs A "Summer Textures" Photo & Here's How To Create It
Kravtsova Maria Kravtsova Maria / EyeEm/EyeEm/Getty Images
This summer, everyone on Instagram is seemingly spending less time in front of the camera and more time behind it. The results are sweet trends that capture the season, new mems you're making, and people you love. The latest of these trends is all about capturing summer textures such as the grainy nature of sand and the spiky skin on a pineapple, so we're bringing you the best tips on how to create a "summer textures" photo on Instagram.
Essentially, these types of photos are supposed to make you want to put your hand through the screen and touch whatever they're depicting: a salty wave, a soft towel, a straw hat that's keeping someone's face out of the bright sun — you name it. They're also meant to make you slow down and notice the intricate details of life you wouldn't have typically.
The best part of this trend is you can be a part of it, well, anywhere. You don't necessarily have to drive down to the beach or locate the one palm tree in your town. As long as you follow these five tips for creating a nice "summer textures" photo on IG, you'll catch the eyes of many and have a feed that's so on-trend.