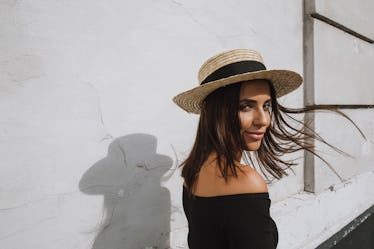 Here's How To Take Shadow Pictures For Insta That Are So Clever & Artsy
Victor Dyomin/Moment/Getty Images
If you've been keeping up with the latest trends on Instagram, then you know that shadow pictures are so in this summer. Every single one of your friends is going to be taking their phone outside on sunny afternoons to snap a pic of the outline of their outfit and their wine glass before virtual happy hour. Naturally, you want to hop on the artsy bandwagon and get the 411 on how to take shadow pictures for Instagram, too.
You don't need the greatest editing apps on the market in order to be part of this trend and capture a photo that'll make your followers gasp. You just need to make the most of the sunshine and capture moments in their simplest form. To do this, you may need to be mindful of how you can manipulate your shadow. For instance, you can move your arms or legs, or hold items that are interesting shapes — like flowers or the book you're currently reading when its pages are spread. In addition, you may need to flip your lens around when you're taking a selfie and give the natural textures of the space you're in the spotlight.
That's the thing about shadow photos on IG: It's more about where you are and what you're doing there, rather than who you're with and what your #OOTD is. You want to show off the sand, grass, ocean, and your reflection living its best life. Here's how to capture a photo that hits all those marks.