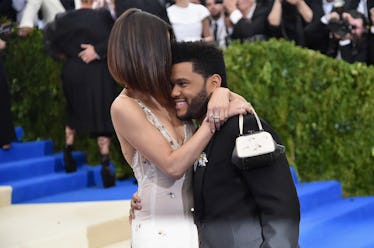 8 Celebrity Breakups From 2017 We Will Spend All Of Next Year Trying To Get Over
Mike Coppola/Getty Images Entertainment/Getty Images
2017, you can take a freaking hike and don't (do) let the door hit you on the way out. This year, we suffered a lot of 2017 celebrity breakups, and with each new relationship that ended came a new blow to our overall happiness and well-being. It seemed like with every new Kardashian baby we receive, we also get one celebrity relationship downfall, as well.
Look, I'm not a celebrity. I don't know what it's like to try to be a normal person with normal feelings in front of God and everyone. It's not technically my job to chastise celebrity relationship decisions. I'm just saying... if famous people wanted to consult with me before making a hasty move that might irreversibly change the way the public thinks about life and love forever, I'm available.
Let me be the one to talk you down from that ledge, guys.
This past year we suffered the end of iconic couple Kylie Jenner and Tyga. We lost power comedy duo Anna Faris and Chris Pratt. I mean, whatever happened to Malika from Keeping Up With The Kardashians and Ronnie from the Jersey Shore?!
Here are eight of the worst celebrity breakups from maybe the worst year of our millennial lives.
Selena Gomez & The Weeknd
Ah yes. One of the more recent and most tragic splits this year. Gomez and The Weeknd called things off in October of 2017 after dating for nearly ten months.
Since then, Gomez has quickly rekindled an even older flame with ex Justin Bieber, and The Weeknd was recently spotted sneaking out of his ex Bella Hadid's NYC apartment.
Kylie Jenner & Tyga
Ugh. I loved to love T and K. Of course, we're all so busy focusing on Jenner's reported pregnancy with her new boyfriend, Travis Scott, we almost forgot these two split up.
Tyga initially snapped a headline on Jenner's pregnancy with the caption, "Hell nah, that's my kid." He later deleted the comment and told Metro UK, "I didn't comment on anything. I didn't comment on anything. It was a fake story."
Sure...
Blac Chyna & Rob Kardashian
It was the nude Instagram pic seen around the world, unfortunately.
On-again-off-again couple Blac Chyna and Rob Kardashian are officially off... forever... seriously... after Kardashian went on an Instagram hate rant against Chyna this past Fourth of July.
After Chyna supposedly sent him a video kissing another man, Kardashian took it upon himself to share private, nude pictures that the reality TV star previously sent to his phone.
The couple had their first child together, Dream, in November of 2016 and are continuing to co-parent.
Jennifer Lawrence & Darren Aronofsky
First coming together on the set of their movie Mother!, J Law and boo-thang Darren Aronofsky called it off after dating for one year.
A source told Entertainment Tonight that it was an amicable breakup and "it's not awkward."
Chris Pratt & Anna Faris
Oof, this one cut deep. Fans believed that famous goofballs Chris Pratt and Anna Faris were the real deal.
After eight years of marriage, fans were crushed with Pratt's following facebook announcement,
Anna and I are sad to announce we are legally separating. We tried hard for a long time, and we're really disappointed. Our son has two parents who love him very much and for his sake, we want to keep this situation as private as possible moving forward. We still have love for each other, will always cherish our time together and continue to have the deepest respect for one another.
Nicki Minaj & Meek Mill
These two severed ties just inside the 2017 deadline back in January, but it still counts.
Let's be honest, I've always looked at Minaj as a powerhouse single type anyway.
She tweeted the news herself saying,
To confirm, yes I am single. Focusing on my work & looking forward to sharing it with you guys really soon. Have a blessed New Year. Love u
Ronnie Magro & Malika Haqq
Wait, do you guys remember when THIS was a thing?
Haqq told bestie Khloé Kardashian on a Keeping Up With The Kardashians episode that she was hitting it off with the Jersey Shore alum. The two met on the set of the show Famously Single and reportedly dated for roughly three months.
Haqq told E!, "It just wasn't able to survive the test of ultimate time, like real life outside of the loft."
Amy Schumer & Ben Hanisch
Love was a totally new and awesome look on famous, single party-girl Amy Schumer. And, we enjoyed this relationship while it lasted.
Schumer famously incorporated Hanisch into her stand-up specials, candidly describing hilarious incidents like when they both came down with food poisoning in Paris or when Schumer would drunk eat at night.
The two were together for a year and a half, and a rep for Schumer told People magazine, "Amy and Ben have ended their relationship after thoughtful consideration and remain friends."
Oof. What a year it's been.
Our hearts and prayers go out to all the broken hearts, and here's wishing you and all these celebrities better luck in life and love in 2018!
Check out the entire Gen Why series and other videos on Facebook and the Bustle app across Apple TV, Roku, and Amazon Fire TV.