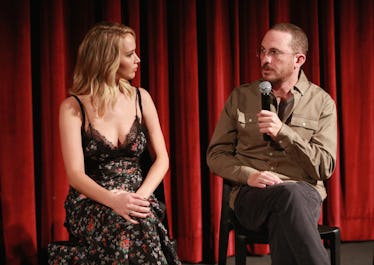 Jennifer Lawrence & Darren Aronofsky Have Reportedly Broken Up, So Love Is Dead
Robin Marchant/Getty Images Entertainment/Getty Images
Today is another sad day in celebrity relationships. J Law and her boyfriend of one year are calling it quits, and fans are crushed. The news is still fresh, and we're all wondering, "Why did Jennifer Lawrence and Darren Aronofsky break up?" Right now, the public has limited details, but we're hoping to hear more from the famous duo soon. A source close to the situation confirmed the split to Elite Daily.
According to multiple sources who spoke with Entertainment Tonight, the breakup actually happened roughly a month ago. The two were last seen together in public at the Governors Awards in Los Angeles. That was Nov. 11, but sources claim the breakup had already happened by then, and the two were simply remaining friendly and cordial for appearances.
The source added "it's not awkward," and another insider calls the split "amicable."
Lawrence and Aronofsky began dating after working together on the 2017 movie, Mother!. Aronofsky directed Lawrence, who delivered a shaking performance in the thriller. Listening to them both talk, it always sounded like sparks first began to fly on set.
In September 2017 at the Toronto International Film Festival, Aronofsky told ET that Lawrence is a "once-in-a-generation talent," and famously called her a "thunderstorm of talent." (Same.)
He said,
... I don't know what makes her great. Maybe it was her parents, maybe it was the Kentucky water. I have no idea, but she's, like, a once-in-a-generation talent, and just a whirlwind and a hurricane and an earthquake and a thunderstorm of talent.
As recently as this past Monday, Nov. 21, Lawrence chatted with The Hollywood Reporter's Awards Chatter podcast about how her relationship with Aronofsky began.
She said,
I had a crush on him when he pitched to me, and that was like a year before we started rehearsing, but he was a professional, which only made it worse for me.
Lawrence explained that they kept it professional during filming, but once they wrapped, it was go-time.
She added,
We just kind of formed a friendship. He knew how I felt. He never told me how he felt. I mean, I assumed. We just formed a friendship and then the friendship turned into a partnership for the movie, once we started working. And then once the movie was done, I was like, 'All right! You're my boyfriend.'
Lawrence's Mother! costar Javier Bordem confirmed to the New York Times that the two had obvious and powerful similarities on set.
He said,
Creatively speaking, both are very willing to go as deep as is necessary without being contaminated by it. To create means to go from a place of neutrality to a place of imagination, where you build up something that didn't exist, and then go back to neutrality. Both are able to do that, which makes the experience much more pleasant.
Despite their pretty hefty age gap of 22 years, Lawrence and Aronofsky seemed like a great fit. For the most part, they kept a low profile and only displayed outward and mutual respect.
When the relationship was new, Lawrence confessed to Vogue they "had energy." She went on to say,
For the past year, I've been dealing with him as just a human. I've been in relationships before where I am just confused. And I'm never confused with him.
Bonus, it sounds liked Aronofsky isn't a snob, though he totally could be. In a totally Jennifer Lawrence fashion, she added,
I normally don't like Harvard people, because they can't go two minutes without mentioning that they went to Harvard. He's not like that.
Oh, what a difference a year makes.
Sending love and good vibes you to you both, Jen and Darren!
Check out the entire Gen Why series and other videos on Facebook and the Bustle app across Apple TV, Roku, and Amazon Fire TV.