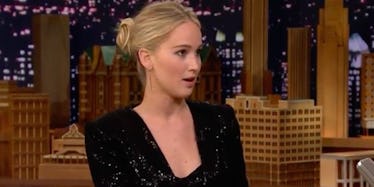 J. Law Used The Kardashians To Cheer Up While Filming 'Mother!' And TBH, We Get It
NBC
Jennifer Lawrence had to go to a very dark place while filming her new thriller Mother!. Actors generally describe tapping into those darker emotions as pretty draining and sometimes difficult to bounce back from after a scene. J. Law's Mother! scenes were so intense, she credits the Kardashians with helping her find her happy place.
Who knew the Kardashians could bring a person back from the depths of despair? In Lawrence's case, a little check in with the reality family was all she needed to restore a happier J. Law. It makes sense, actually.
During an appearance on The Tonight Show, Lawrence told host Jimmy Fallon her behind-the-scenes secret to nailing an intense scene and then restoring her sanity. After all, the energetic and chatty J. Law can probably only be down for so long before she needs to center herself.
Here's where the Kardashians come in. Lawrence explained that she needed a special tent on the set, away from the extras, so she could focus solely on keeping up with the Kardashians.
Lawrence explained: "I got to such a low point in the film emotionally that eventually, I had to bring the Kardashians in. Not in person, obviously." How great would that be though?
J. Law further noted how the set up worked:
I've never done something that horrifying so I started getting scared a couple days before and I was like, 'I need a tent just to be away from all of the extras,' because I didn't know what I would do, and then eventually one Kardashian came and then another Kardashian came, but it was just a computer that was playing the Kardashians and their headshots and it also had little notes to me, from them, that I had written.
What did those notes say? Oh, you can bet she's not telling!
I'm not entirely surprised that Lawrence's happy place involves all things Kardashian, though her superfan status of the Real Housewives franchise makes me wonder why she didn't deck that tent out with Housewives... maybe there's too much drama with the Bravo reality stars?
During her interview with Fallon, the discussion, of course, moved into Housewives territory, as Lawrence expressed her surprise that Luann de Lesseps announced her divorce from Tom D'Agostino.
Lawrence, who feels she knows the ins and outs of Housewives territory more than anyone, has jokingly given herself a producer credit, telling Fallon: "I am, I guess, kind of a producer of all of the Real Housewives. Andy Cohen and I, I would call us colleagues. I get really passionate and I give him a lot of advice."
As for de Lesseps' divorce news, she said, "I was horrified and shocked. My stomach dropped because I realized that I had just seen the reunion, which means they aren't filming. And so I texted Andy [Cohen] and I was like, 'Get a camera in Ramona [Singer]'s face right now.' And I also told him to show the moment in the Berkshires where Bethenny [Frankel] is crying and going, 'I just don't think your guy is a good guy.'"
She added, "Anyway. It's hard to explain the ways of producing if you're not a producer."
Lawrence is so invested in the franchise that she even developed a great drinking game, explaining: "With Beverly Hills, my friends and I have a drinking game. Anytime Lisa Rinna says her husband's full name, Harry Hamlin. Have you guys ever noticed that? She always goes, 'Harry Hamlin's on his way!'"
During her appearance on The Tonight Show, Lawrence also tried her hand at throwing axes with Fallon, though obviously that weapon isn't her forte and she was easily defeated. Now, put a bow and arrow in her hands, a la Katniss Everdeen, and let's see if Fallon is any match for her Hunger Games skills.
Also, Lawrence is a sore loser and I love her even more for her tiny tantrum at the end. My total spirit animal.