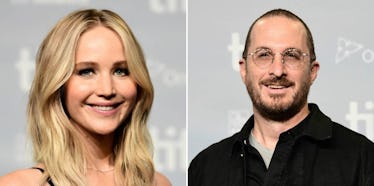 Jennifer Lawrence And Her BF Share What They Love About Each Other & It's So, So Sweet
Emma McIntyre / Getty Images
If there's one thing I've learned here at my job as an entertainment writer it is this: J. Law is a goddess among men and a perfectly proportioned force of talent. Therefore, her boyfriend must be one hell of a guy. Jennifer Lawrence's quotes about Darren Aronofsky are nothing short of gushing, and we are here for it.
The two have been on a whirlwind trip promoting their upcoming thriller movie, Mother!, and simply just can't stop obsessing over each other. While they take care to put other human beings between them on the red carpet, it's clear they only have eyes (and tons and tons of mutual respect, HELLOoOOo!) for each other.
Though Lawrence and Aronofsky have a whopping 22 year age difference between them, we can't quite call them an unlikely pair. Listening to the way they talk about each other, it's clear they share some sort of unspoken understanding or mindset about the industry they're in, as well as the world in general.
The two met on the set of Mother! back in 2016, and in an Aug. interview with Vogue, Lawrence admitted to "having energy" with Aronofsky. She added,
For the past year, I've been dealing with him as just a human. I've been in relationships before where I am just confused. And I'm never confused with him.
I ALREADY LOVE YOUR LOVE, J. LAW. But wait, there's more.
Now that the two have been cruising around promoting their seriously terrifying looking film, they've had several chances to speak to each other's talents. And boy-oh-boy, do they have some specific praise to pass out.
In an interview with Entertainment Tonight, Lawrence, 27, jumped on the opportunity to brag about her boyfriend and his artistic and directorial eye. She said,
I mean, his point of view, his artistic uniqueness. He's just brilliant. Incredibly instinctual.
HE'S INCREDIBLY INSTINCTUAL, YOU GUYS. I don't know if I get it, but I know it's good.
Of course Aronofsky, 48, has similar feelings about Jennifer. He told interviewers,
Well, I don't know what makes her great -- maybe it was her parents, maybe it was the Kentucky water. I have no idea, but she's, like, a once-in-a-generation talent, and just a whirlwind and a hurricane and an earthquake and a thunderstorm of talent.
I WANNA BE A THUNDERSTORM OF TALENT.
Darren, pick me. Choose me. Love me.
All of this to say, it looks like the set of a truly horrifying psychological thriller is the newest hot spot to find true love. Despite the obvious complications of the two dating while working on such an intense film, Aronofsky says Lawrence made it very easy:
I mean, she's very, very relaxed. She's the type of actor that turns off all the intensity when she's not shooting, and then flips it on when she needs it. And so, in between action and cut, she's the character, and then when you call cut, she's Jennifer Lawrence again.
Lawrence also told ET,
It was dark. I mean, if anybody sees the movie, they'll understand. I had to go to a place nobody should go. ...If I had to stay in, like, a torturing feeling or state of mind, I wouldn't want to be an actor. I would just go do something else.
Woof. Makes sense. I mean, have you guys seen the movie poster for Mother!?
Yup, take it all in. That's our main girl looking like an angel and holding a disgusting, bleeding, literal heart. And the trailer for Mother! is something I won't even watch, but I've heard it's a freaking nightmare.
Also, do you guys remember Javier Bardem? Because HELLO, Javier Bardem!
Anyway, J. Law and Darren, we love to love you guys. Happy haunting.