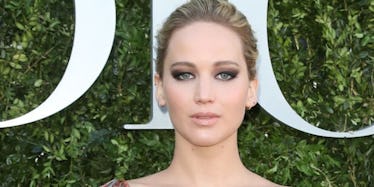 Jennifer Lawrence Goes Full Scream Queen In Terrifying Trailer For New Horror Flick -- VIDEO
Getty
She's already conquered dystopian sci-fi and adult dramas, and now Jennifer Lawrence is making her debut in horror. The first trailer for Lawrence's new movie mother! is definitely the creepiest thing we've ever seen her appear in. It's still unclear exactly what the new movie will be about, but the first mother! trailer starring Jennifer Lawrence definitely lets us know it won't be an easy movie to watch.
The thirty-second clip shows Lawrence's character walking through her home, as increasingly terrifying sound bites from herself and other characters play. In the last few seconds, the teaser erupts in several quick flashes of wild images, including explosions and people attacking one another. The only real plot detail we can pick up from the teaser is Jennifer Lawrence invites a group of strangers into her home after they assume it's a bed and breakfast, and things clearly get very scary from there.
Nobody's characters are revealed, but it sounds like Javier Bardem is playing Lawrence's husband, and Ed Harris is likely the stranger who comes into the house. The movie also stars Michelle Pfeiffer, Kristen Wiig, Domhnall Gleeson, and Brian Gleeson in unspecified roles. Check out the quick but horrifyingly creepy first look at mother! below.
The teaser builds even more on the mysterious, super creepy vibe director Darren Aronofsky already gave us when he revealed the movie's poster a couple months ago. The unsettling poster features a Renaissance-style painting of Jennifer Lawrence holding her heart in her hands.
The psychological thriller will be a major genre shift for Jennifer Lawrence, who is best known for helming sci-fi franchises like The Hunger Games and X-Men, as well as starring in David O. Russell dramas like Silver Linings Playbook and Joy. Another interesting aspect of mother! is it's Lawrence's first time working alongside her boyfriend Darren Aronofsky, who reportedly began dating at the beginning of production on the upcoming release.
mother! is slated to premiere on September 15.