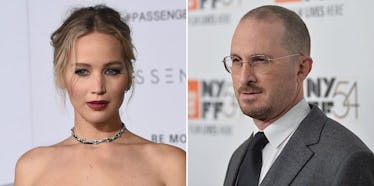 New Pics Prove Jennifer Lawrence And Her 48-Year-Old BF Are Still Going Strong
REX/Shutterstock
Hey, did you forget Jennifer Lawrence is dating 48-year-old director Darren Aronofsky? If you did, I don't blame you — their relationship was all the buzz last fall when it began, but the low-key couple has been steering clear of the public for the last few months.
Well, here's your reminder that JLaw and DAro (his name doesn't work as well...) are still going strong. E! Online snapped some photos of the elusive A-list couple during one of their dates this weekend.
The couple was bundled up during the chilly Manhattan day, and an insider reported they were kissing and hugging as they made their way to see "Beauty and the Beast" and then eat at an Indian restaurant.
And apparently, although we haven't seen them together in a while, Jennifer and Darren have been keeping their love alive over these past few months.
Darren even reportedly flew to Budapest to be with Lawrence for Valentine's Day and his 48th birthday, as she was filming the upcoming spy thriller "Red Sparrow" there.
To answer the next question I'm sure you're already about to Google: Jennifer Lawrence is 26 years old, making her nearly half of Aronofsky's age.
Though Lawrence's most long-term relationship was with her "X-Men" co-star Nicholas Hoult, who is only one year her senior, the actress seems to be drawn to more mature men recently — she had a brief romance with 40-year-old Chris Martin before starting things with Aronofsky.
As for Darren's dating history, the director was previously married to actress Rachel Weisz, and the two have a son together.
They wound up separating in 2010 — there were some rumors at the time that Aronofsky was dating his "Black Swan" leading lady Natalie Portman, but those were never substantiated.
He then dated producer Brandi Milbradt for a few years before breaking things off in 2015.
In the summer of 2016, Darren and Jennifer Lawrence shot their upcoming drama "Mother!" in Montreal, and that's where sparks started flying between the two. They've been dating ever since.