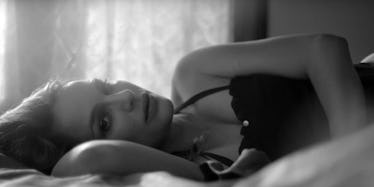 Pregnant Natalie Portman Stars In New Music Video, Definitely Channels Beyoncé
YouTube
James Blake's new music video is literally just a very pregnant Natalie Portman swimming and lounging and such.
So it's official: You're not truly pregnant in Hollywood until you do an ethereal, underwater pregnancy photo shoot.
Now Nat is jumping on the aquatic pregnancy train with this music video for James Blake's "My Willing Heart."
According to a press release, it was shot just a few days before she gave birth in February.
So, who wants to take bets on when Amal Clooney will drop her tasteful yet provocative underwater shoot for Vanity Fair?
But let's get back to Natalie, shall we?
It's all very artsy, shot totally in black and white.
It pretty much just features a lot of Natalie Portman being very, very pregnant.
Here she is pregnant on the bed.
Here she is pregnant in the water.
Here she is pregnant in the water in the fetal position, sort of evoking a double-embryo type thing.
The art of it all!
Here she is poking her own pregnant belly.
At one point you can actually see the baby (a baby girl later named Amalia) moving inside Natalie's stomach.
I know the miracle of life is beautiful and all but also... ack.
Finally, it ends with Natalie Portman's pregnant belly actually growing in size as she breathes.
Again, beautiful, but ack!!!
Natalie gave birth to her second child with her husband, Benjamin Millepied, almost a month ago on February 22. They named the baby girl Amalia Millepied. Their first son, Aleph, is now 5 years old.
Well, little Amalia is getting a pretty great almost one-month birthday present — the chance to see herself in her mother's womb someday. (Assuming this YouTube thing is here to stay, that is.)