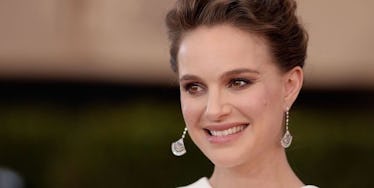 Natalie Portman's New Baby Girl's Name Is One Of The Top Choices For 2017
REX/Shutterstock
Natalie Portman was a little too busy to attend this year's Academy Awards, and her fans were left scratching their heads wondering why she didn't show.
She was nominated for Best Actress, after all.It turns out the actress was preoccupied caring for her newborn baby girl, who was born four days before the Oscars on February 22, E! News reports.
Congratulations, Natalie!
So, yeah... I'd say she was a tad busy after giving birth to her child. We can't blame her for sitting this one out.
If you've been oblivious to the fact that Natalie Portman was even pregnant to begin with, you probably aren't alone.
The actress was extra secretive and didn't post any photos or updates on social media throughout the duration of her pregnancy.
However, a rep for Natalie confirmed her new baby girl in a statement to CNN.
They said,
Natalie Portman and her husband, Benjamin Millepied, welcomed a baby girl, Amalia Millepied, on February 22. Mother and baby are happy and healthy.
Natalie's newborn is her second child with her husband, Benjamin Millepied, in addition to their 5-year-old son, Aleph.
Now, for the moment you've all been waiting for: the reveal of Natalie's daughter's name.
Drumroll, please...
Natalie Portman named her daughter Amalia!
Amalia is a variation of Amelia, which is one of the top 10 baby names for 2017, according to BabyCenter.com. Plus, it's adorable.
Portman and Millepied clearly put a lot of thought behind the name, since Amalia has a very empowering meaning. According to SheKnows.com, Amalia means "defender," which solidifies the fact that Natalie's daughter is going to be one tough cookie.
The English meaning of the name is "industrious and striving," which is really just setting her up for success.
Her daughter's full name is Amalia Millepied, and it's definitely a top contender for unique celebrity baby names.
However, if we compare the name to other celebrity choices, Natalie's playing it safe, that's for sure.