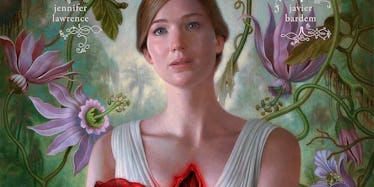 Jennifer Lawrence Is Back And She Has A Gruesome New Movie Poster To Prove It
Twitter
Jennifer Lawrence has become one of the biggest movie stars of the past few years thanks to starring roles in huge blockbuster franchises like "The Hunger Games" and "X-Men," but now she's going back to her roots as an indie darling... and if her new film's new poster is any indication, it won't be pretty.
In honor of Mothers Day this weekend, director Darren Aronofsky (who also happens to be J Law's rumored boyfriend) debuted the creepy poster for his upcoming thriller "mother!" -- which features an oil painting of Lawrence with a bloody gash in her chest holding out her heart.
Check out the unsettling poster below.
So creepy! Something tells me "mother!" isn't exactly going to be the feel-good movie of the year.
The psychological thriller has been in the works for a couple of years now, but we still don't know much about the mysterious film other than it stars J Law and Javier Bardem (supposedly as love interests) whose relationship gets thrown into turmoil when uninvited guests come into their tranquil home.
The rest of the cast includes a mix of dramatic actors like Michelle Pfeiffer and Domhnall Gleeson, alongside comedian Kristen Wiig. I guess they'll be the "uninvited guests" from the plot summary?
Even though we still don't know much, it sounds like everyone is super pumped (and kind of scared) for "mother!" thanks to this poster.
One fan even noticed a similarity in the artwork to that of Florence + the Machine's past album covers.
"mother!" will be Jennifer Lawrence's first film since last year's intergalactic love story "Passengers," which ended up being critically derided for its questionable depictions of romance between Lawrence's and Chris Pratt's characters. It will also be Aronofsky's first directed project since the sprawling 2014 Bible adaptation "Noah."
Seemingly perfect for Halloween, "mother!" will hit theaters on October 13.