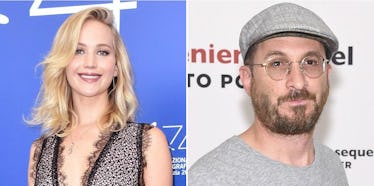 J. Law & Her 48-Year-Old BF Made Their First Red Carpet Appearance – PHOTOS
Getty Images/ Pascal Le Segretain, Jamie McCarthy
I love Jennifer Lawrence. You love Jennifer Lawrence. We all love J. Law. Honestly, if someone says they don't, they're either lying or have her confused with a different Jennifer. For being one of the biggest movie stars around, Lawrence usually keeps it low-key. That's why photos of Jennifer Lawrence and Darren Aronofsky have me gushing. The 27-year-old actress and 48-year-old director are seriously a fantastic match. They've been together a little over a year, but are not frequently seen out together.
That is, until they needed to promote a movie. Mother! is the latest psychological thriller starring Lawrence and directed by Aronofsky. Judging by the movie poster for Mother!, it looks bloody and creepy AF. The film hits theaters on Sept. 15, so Lawrence and Aronofsky have been on the press circuit together.
One of the first stops was the Venice Film Festival. The couple has been photographed together in the past, but this was their first official red carpet appearance. Aw, one for the photo album! Not really, though — they kept it very PG. Jennifer Lawrence, Darren Aronofsky, Javier Bardem, and Michelle Pfeiffer all walked the carpet together. Actually, Lawrence and Aronofsky didn't even stand next to each other.
According to Popsugar, Lawrence was seen leaving the airport with Aronofsky. So... that's a good sign. Hopefully this elusive couple will start coming more into the spotlight. I mean, come on, it's been a year.
The two met during the summer of 2016 when Jennifer Lawrence and Darren Aronofsky shot Mother! in Montreal. Reportedly, that's where the sparks started flying and the two have been together ever since.
They really seem to make sense together. Lawrence spoke about Aronofsky very affectionately during an interview with Vogue in August. After explaining that the two "had energy," she said,
For the past year, I've been dealing with him as just a human. I've been in relationships before where I am just confused. And I'm never confused with him.
Seriously, major couple goals. Once again, I love Jennifer Lawrence and I'm glad she's found someone to make her happy. It looks like the duo also creates amazing movies together. It's a win-win for us all.