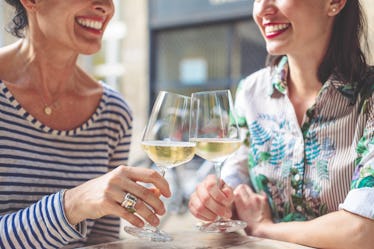 These Wine Delivery Gifts Will Make Mom Feel Extra Special On Mother's Day
You want to make your mom or the mom figure in your life feel special every day of the year. But when Mother's Day comes around, the calendar gives you the sweet opportunity to spoil her with gifts, greeting cards, and wine. These thoughtful, cute, and lovely wine delivery gifts to send for Mother's Day are not only unique gifts to give, but also will help you celebrate no matter where you are in the world.
Traditionally, you may hang out with your mom on Mother's Day and open gifts together. Due to the coronavirus pandemic, though, you might still be social distancing from your family. The Centers for Disease Control and Prevention (CDC) updated its guidelines on April, 2, 2021 to say that fully vaccinated people can spend time indoors together without wearing a mask. However, in order to be considered "fully vaccinated," you and the other person must receive all necessary vaccine shots and complete a two-week waiting period. Luckily, if you and your mom haven't reached that point yet, these wine delivery gifts offer a completely safe way to celebrate the person who loves and supports you most.
If you need to spend Mother's Day physically apart, you can still spend time with your mom on video chat while she opens up one of these seven wine delivery gifts. Watching her face glow with pure joy, gratitude, and excitement for the grape times ahead will make it all worth it — even if it has to be over Zoom.
This article was originally published on