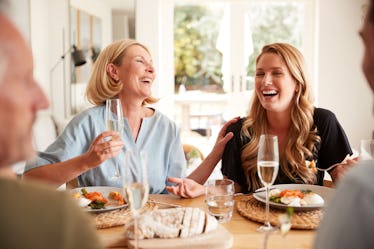 12 Mother's Day Brunch Delivery Gifts That Mom Will Love A Waffle Lot
Shutterstock
Your mom has been your No. 1 since Day 1, so with Mother's Day coming up, you want to shower her in all the love and affection she deserves. It can be difficult deciding what to gift the woman who deserves the entire world, but a solid choice could be choosing one of the best Mother's Day brunch delivery gifts.
Growing up, you might have served your mom breakfast in bed on this special day. You'd whip up a yummy stack of pancakes, and prepare a tray for her, complete with orange juice and a little vase of flowers. It's a tradition you want to keep going strong, but it can be a little tricky when you're not physically there. It's possible that due to the ongoing coronavirus pandemic, while you're waiting to be fully vaccinated, you're celebrating Mother's Day long distance this year. If that's the case, you need a way to send your mom a Mother's Day brunch in the mail that's totally safe.
Luckily, there are brunch delivery gifts that will ship entire meals with just a click of a button. Plus, these 12 Mother's Day brunch gifts range from bagel and lox kits to pastries that Mom will love a waffle lot. The only difficult decision you have left to make is choosing which one to send.
This article was originally published on