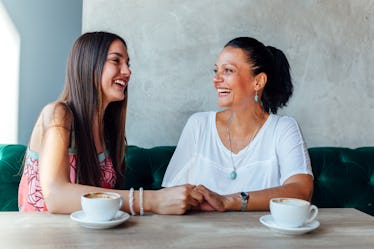 39 Instagram Captions For Mother's Day Brunch With Your Day One
Shutterstock
Since day one, Mom has been your best friend and constant support system. She's always there when you need to spill the tea about the latest TV drama you're obsessed with, or a really awesome date you went on. She also offers crucial advice when it comes to making life's biggest decisions. She deserves to know how much you appreciate her every day, but most especially the moment she wakes up on Mother's Day. That's why you should have the best Instagram captions for Mother's Day brunch lined up to kick off the day on a sweet note.
Bruch is a crucial part of Mother's Day. When you were little, you might have attempted to make waffles with your older siblings, or poured a bowl of cereal and spilled the milk while carrying it up to Mom's room. You'd finally make it up the steps and present Mom with a half-empty bowl of Cheerios. Sure, it was incredibly cute then, but since you're not a kid anymore, you need to step up the game.
This Mother's Day, Mom's brunch will be complete with her favorite breakfast foods, bottomless mimosas, a fresh bouquet set on the kitchen table, and of course, Instagram captions cute enough to make her tear up (or at least smile). These 39 captions will get the job done.
1. "Sip, sip, hooray."
2. "You can always brunch with us."
3. "Love you a brunch."
4. "Brunchin' is a habit."
5. "Let there be brunch."
6. "Slay, then rosé."
7. "But first, mimosas."
8. "Hakuna mimosa. It means it's brunch time."
9. "On Mother's Day, we brunch."
10. "It's beginning to look a lot like brunch time."
11. "Sometimes we put orange juice in our champagne."
12. "Turn down for brunch."
13. "Today's mood: bubbly."
14. "Feeling just peachy with this one."
15. "She stole a pizza my heart."
16. "I love how we don't have to say out loud that I'm your favorite child."
17. "Brunch is always a good idea."
18. "Not always eye to eye. But always heart to heart."
19. "You say tomato, we say Bloody Mary."
20. "There's no such thing as sparkling too much."
21. "I'll be ready in a prosecco."
22. "Dressed in our brunch best."
23. "Sippin' and toasting with my bes-tea."
24. "Brunch hard, brunch often."
25. "Babes who brunch."
26. "Soup of the day: champagne."
27. "A Sunday well-spent brings a week of content."
28. "Brunch queen."
29. "We're sweet on this stack of pancakes."
30. "Life doesn't come with a manual, it comes with a mother."
31. "Out of all the moms in the world, I am so glad you are mine."
32. "I must say, brunch turned out pretty egg-cellent."
33. "When your OOTD matches your bellini."
34. "She's here for the mom-osa bar."
35. "OMG my mother was right about everything... including this brunch.
36. "Toasting to my best friend and role model, always."
37. "If I didn't have you as a mom, I'd choose you as my best friend."
38. "A mother is a daughter's forever friend."
39. "Cheers to this amazing woman."
This article was originally published on