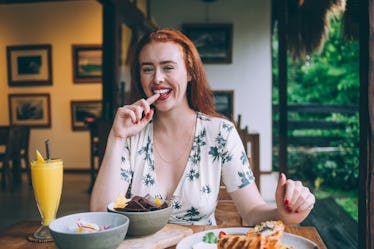 37 Mimosa Captions For Mother's Day Toasts To Your Favorite Person
Shutterstock
I can't remember my first mimosa. I can't even remember why I wanted one. Maybe it was the allure of a fancy brunch restaurant. Maybe it's just that orange juice is always a hit. Whatever the reason, this Mother's Day, it's time to break out the champagne, fresh fruit, and OJ to enjoy with your number one: Mom. It's the perfect way to celebrate her, and the perfect excuse to make use of this list of mimosa Instagram captions.
If you think a mimosa toast is a good way to kick off Mother's Day at home, you may want to think about the rest of your brunch spread, too. Chocolate-covered strawberries and brioche French toast would complement your DIY mimosa bar just perfectly, and likely put a major smile on Mom's face.
Complete your aesthetically-pleasing display for your day one with fresh flowers, and maybe even a decorated wall you can snap pictures in front of. After all, both you and your mom will want to document this special day to the fullest.
While you spend time perfecting that casually-toasting plandid pose for the 'Gram, you're set to pair your snaps with any of these 37 mimosa captions. They're funny, they're sweet, and they're 100% toast-approved.
1. "Feelin' bubbly."
2. "Hakuna mimosa — it means it's brunch time."
3. "Sip, sip, hooray!"
4. "Sometimes I put a splash of orange juice in my champagne."
5. "Current situation."
6. "Cheers to you, Mom, and to many more mimosas."
7. "Mornings are for mimosas."
8. "It's never too early to sip a flute of champagne."
9. "My morning fruit."
10. "Move over, coffee. Today is a day for champagne."
11. "Brunch without champagne is just a sad breakfast."
12. "Mimosas are a good source of vitamin C."
13. "Too much of anything is bad. But too much champagne is just right." — F. Scott Fitzgerald
14. "Start the day with a smile and a mimosa."
15. "Brunch is always a good idea."
16. "If by juice cleanse you mean more mimosas then OK, I'm down."
17. "Mom's Day calls for mimosas."
18. "More bubbly, less OJ."
19. "Start your day sparkling."
20. "Brunch so hard mimosa wanna find me."
21. "Sip on this."
22. "My mom taught me right when she taught me about mimosas."
23. "Brunch, because mimosas."
24. "Sip happens."
25. "But first, bubbly."
26. "I'll have my champagne with a side of glitter, please."
27. "Mimosas, because sometimes coffee doesn't cut it."
28. "'There's too much champagne in my mimosa!' said no one ever."
29. "Brunch is kind of our thing."
30. "Soup of the day: champagne."
31. "On a juice cleanse (mimosas)."
32. "Let there be brunch."
33. "Let's just call these mom-osas today."
34. "Happy Mother's Day to my favorite mimosa lover."
35. "No champagne, no gain."
36. "They invented brunch so we could have wine for breakfast."
37."What's a bottle of champagne between mom and daughter? Empty."
This article was originally published on