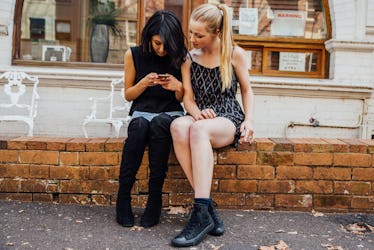 7 Things That'll Never Be TMI To Share With Your Bestie, Because You're Bonded For Life
One of the first lessons you learn, like ever, is: Sharing is caring. Your kindergarten teacher taught you to pass the crayons to other kids at your table, or give somebody else a turn on the swings. But, as you grow up, you learn that there's a limit to sharing — and started hearing the phrase, "too much information." Welp! Who are you going to talk to about the embarrassing thing that happened at lunch, or your secret crushes? Enter, your best friend. There are some things you tell your best friend that would be too much info to anyone else — and it's been like that since day one.
Together, you've talked about all the things. You've had in-depth conversations about your periods, or weird food combinations that are actually really good. You've spent hours reading over text messages, and curating the perfect responses to your crushes. Don't even get me started on the time you've dedicated to memes and funny tweets you found on the Internet.
And as the years have gone on, you two have continuously agreed that "too much information" is not a real thing — at least, with each other. You share everything with your best friend, and will continue to do so forever. These seven things are probably what you tell her the most, right?