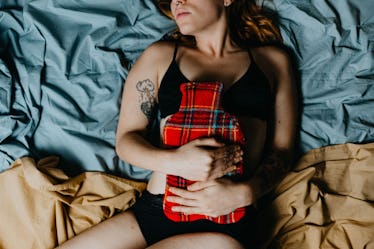 If All Of Your PMS Symptoms Are Hitting You At Once, Treat Yourself To These 6 Foods
If you're a person who gets a period, chances are, you've experienced some not-so-great side effects about every 28 days. From binge-watching Parks and Recreation in bed to treating yourself to the most luxurious bath you've ever taken, there are plenty of self-care rituals that could make that time of the month a little less miserable. But if you, like me, love an excuse to eat something delicious, you may be able to ease some of those awful period symptoms and nourish your stomach at the same time. Luckily, these six foods that can help with PMS symptoms are not only great for soothing your mind and your body, but they're pretty tasty, too.
Before I understood some of the science behind eating for period relief, I simply reached for whatever I was craving most (usually vegan mac and cheese, if I'm being totally honest) whenever I was dealing with PMS. While listening to your cravings can sometimes be helpful in understanding your body, there's a certain power to understanding exactly how to address your worst symptoms, so you can live your life to the fullest, period symptoms be damned. These delicious recommendations from experts will help you take charge when you're not feeling so great.