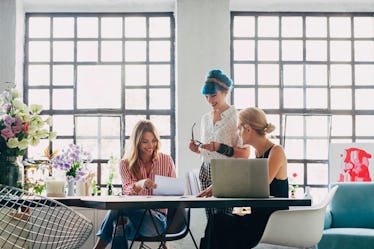 7 Corny AF Things You Did To Fit In With Your Work Crew When You First Started
If you just stepped foot into the real world, then you know that making new friends in your 20s can be such a struggle. Fitting in at your new office, in particular, is difficult because you want to find the balance between being professional and one of the cool kids. You're a part of a totally new team now, and unlike bonding with your roommates back in the day, you can't rely on your residential assistant to put the pieces together for you. Some of the things you did to fit in with your work crew were honestly corny AF. But, let's laugh about it, because many of us have been there, done that.
Some days you probably worked through lunch just to show your new boss you were really committed to the position. You might have participated in the office's weekly ping pong tournament even though you've never picked up a paddle, or listened to that annoying coworker rant about a client and truly took one for the team. Yes, fitting in can be hard, and you just couldn't wait to get comfortable.
Your coworkers probably picked up on a few moments when you were clearly the new kid on the block. They all have their stories of how they spilled coffee on their first day, too, so these seven corny things you did to fit in aren't so bad, after all.