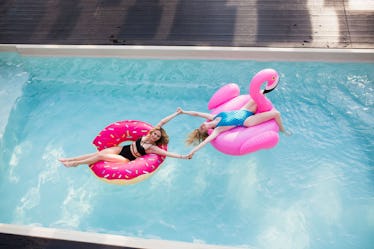 7 Things To Do At Home This Summer When Your BFFs Are Traveling & You're Bored
Summer is officially in season, but you're already finding yourself bored. Your plan for the next few months has just been to work and save some money, so unfortunately, you don't have any trips in the books. But, that didn't stop your besties from buying planet tickets to tropical destinations and island hopping in Greece. They'll be gone for weeks at a time, and you're wondering what you could possibly do while they're gone. Don't fret: There are some things to do at home this summer that'll be just as fun for while your BFFs are traveling the world.
Sure, you're not getting your passport stamped, but who likes packing, anyway? Your besties are going to be trying to stuff everything they own into a suitcase and battling lines at the airport early in the morning. Yuck! No thanks. See, your summer is better already.
The key is to start looking at the bright side of things, and all of the activities you can do right in your hometown. You may be tired of going to the same 'ole diner, but what about trying a few new spots? Maybe instead of hitting up the lake house next weekend, you road trip to a new town for the day. The options are actually endless; you just have to be willing to get a bit creative and happy with what you have right now. These seven things will keep you busy this summer, and ensure some fun in the sun.