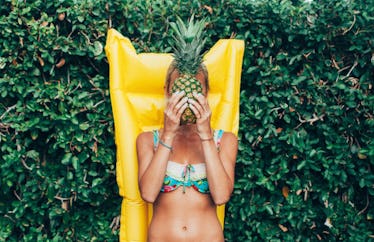 10 Things You Should Be Doing This Summer Instead Of Drinking
Girls just want to have fun in the sun. Some of us wait all winter for the warmer weather, and just can't wait to break out those flip-flops and beach towels. We take off to tropical places to chill on the beach, and make plans for camping trips and bonfires with our besties. It is too much to ask for summer to be a year-round season? Living our best lives means we need so much more sunshine and vitamin sea, and if you're 21 or older, you may be looking for things to do without drinking this summer, so that you can make the most of these next few months.
Don't get me wrong, rooftop bars in the city and sipping on margaritas can be pretty sweet, especially when you're surround by your crew. But your favorite breweries will still be around when it's fall and all the leaves have changed. The world has totally gone green, and the days are so much longer. Do you want to spend them making memories and going on adventures, or sitting on a stool waiting to be served?
Personally, I'd rather be outdoors and diving head first into days by the lake instead. Summer should be about disconnecting from our screens, and finding social situations that don't necessarily require a tequila sunrise. These 10 things will make sure you and your girl crew are truly making the most of summertime, and having fun in the sun.