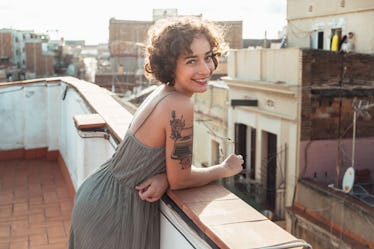 The Best New Year's Resolutions To Make If You Need To Re-Organize Your Entire Life
Is it just me, or is the phrase "new year, new you" not only tired, but also wildly outdated? Times are changing, friends. The world is (slowly but surely) progressing, and so is the concept behind New Year's resolutions. What was once seen as a time to completely change who you are at your core is now an opportunity to refine that persona, to enrich your sense of self. So as you start brainstorming the changes you'd like to make in 2019, rather than trying to completely rearrange your entire lifestyle, why not set New Year's resolutions for better organization? That way, the next 12 months can (hopefully) run relatively smoothly and allow you to live your best life — who knows, it might even give you the opportunity to learn more about the type of person you are.
There's something about the infinite possibilities of a clean slate that make me so excited for the new year. To me, Jan. 1 marks a new beginning, a fresh chapter, a blank page that invites you to add to your life story. OK, I'm getting cheesy, but for me personally, New Year's resolutions have always been important because they set the tone for the year ahead — at least initially.
According to U.S. News & World Report, about 80 percent of New Year's resolutions fail, and fail fast. In fact, in an interview with Elite Daily back in November of 2017, Dr. Steven Levine, psychiatrist, psychotherapist, and founder and CEO of Actify Neurotherapies, told me that, because "it can take weeks to months to start to see any benefit" from the resolutions people set out to achieve, most people will give up on their goals as early as February.
But that was then, and this is now. 2019 is yours for the taking, my friend, and I fully believe that setting an intention to become more organized in the new year is doable. To set you up for success, I reached out to a few experts in the space, who offer their best tips for decluttering the mess that 2018 made.