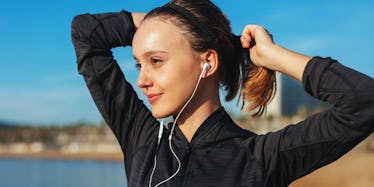 Fitness Experts Reveal The Benefits Of Morning Workouts That Make The Early Rise Worth it
People who work out in the morning will never pass up an opportunity to tell you about their dedicated routine. Like, I get it: You're some sort of rare breed of human who doesn't get the urge to snooze your alarm 17 times before finally getting out of bed. Quite frankly, though, I'm just jealous; morning workouts seem incredibly beneficial for the body in so many ways, and I wish I could get my butt to the gym at the crack of dawn. Plus, the benefits of working out in the morning that you don't see are really powerful, so much so that they can set the tone for your entire day after the fact.
Caleb Backe, a personal trainer and health and wellness expert for Maple Holistics, tells Elite Daily over email that he believes the morning really is the best time to exercise. "The body is alert and highly responsive, packed with energy from what was hopefully a good night's sleep," he says. "Take advantage of this amazing time period of awakening, where your inner rhythm is aligned with the Earth and its sun, and you are not yet physically bogged down with day-to-day routines and domestic madness."
According to Backe, your body and your mind will thank you for squeezing in a morning workout, even if climbing out of bed is, you know, less than enjoyable at first.
If you already consider yourself a morning workout person, here are five amazing things happening internally, all thanks to your dedication. You might not be able to see these benefits with your own eyes, but they're there, friend, and they make those early-morning alarms so worth it.