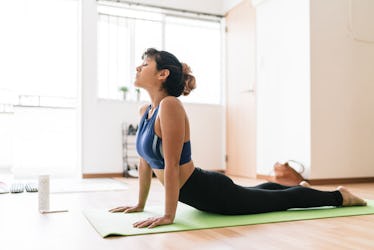 Try These 7 Home Workouts In The Morning If You Need A Really Quick Boost Of Energy
It can be hard to convince yourself to work out in the morning, but once you buckle down and do it, you literally feel like a badass energizer bunny for the rest of the day. Sometimes, though, even if you've talked yourself into squeezing in an a.m. sweat sesh, you snooze your alarm one too many times and end up with a lot less time than you'd planned on. In that case, there are plenty of quick workouts you can do in the morning so that you're still able to get your body moving a little, but you're not sacrificing that much-needed time to shower, grab breakfast, and get out of the house.
Contrary to popular belief, you actually don't have to work out for an entire hour in order for it to be effective, friends. According to a 2012 study published in the journal Medicine & Science in Sports & Exercise, workouts that last anywhere from five to 15 minutes can still be extremely beneficial for your body — especially in the morning, when you're craving a natural boost of energy that your beloved cup of coffee just can't provide sometimes.
And, look, if you have time in the a.m. to flow through a 45-minute yoga practice or hit up the gym for a whole hour, respect, girl — keep doing you. But for those days when you're in a hurry and only have about 10 minutes or so to spare, here are seven quickies you can squeeze in right at home.