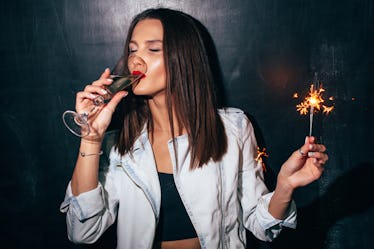 This Is When Most People Abandon Their New Year's Resolutions, But Here's How To Keep Yours
2018 is officially within reach, my friends, which means now's the time to secure where you'll be and what you'll be wearing when the ball drops on Jan. 1. It's also the time most of us begin to seriously reflect on the hectic year we've endured. 2017 was rough, and it's hard to believe anyone will come out of it unscathed. A new year offers all of us a clean slate to start over. Unfortunately, as quick as we are to make resolutions, we're just as quick to break them, so if you're wondering when new year's resolutions usually fail, it really depends on the type of goals you set, and how serious you are about making the change.
By now, those of us who even remotely care about new year's resolutions have a plan of action to achieve our goals. It can feel almost exhilarating to have these grandiose ideas of the person we want to become, or the successes we're aiming for, but the problem isn't in the imagination, it's in taking the necessary measures to meet our goals. Once we're faced with the actual work that needs to be done, we're over our resolutions before we can even begin to see them through.
The issue of when — or if — someone's new year's resolutions will fail ultimately depends on a few key factors, such as how realistic they are to come true. According to Dr. Steven Levine, psychiatrist, psychotherapist, and founder and CEO of Actify Neurotherapies, resolutions tend to come to a halt during the first few months of the new year. Moreover, Business Insider reports that a whopping 80 percent of new year's resolutions fail by the second week of February. Dr. Levine tells Elite Daily this is because "it can take weeks to months to start to see any benefit," leaving people disheartened and unmotivated.
Though millennials live for the grind, we also live for quick results, and when we don't see progress within a few weeks into the new year, we're prone to jump ship. This year, instead of giving up on your resolutions two weeks into 2018, muddle through the minor setbacks with these six expert tips.