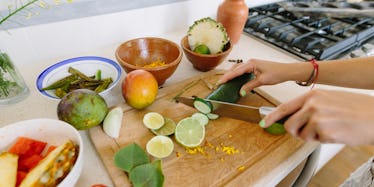 5 Ways To Flawlessly Meal Prep In Under An Hour, According To A Fitness Guru
When I used to envision meal-prepping, I honestly thought it was reserved for hardcore body-builders, fitness competitors, and professional athletes. Plus, who wants to use their precious free time to cook an insane amount of healthy food that you're not even sure you're going to want to eat by the end of the week? See, the trick is to learn how to meal prep quickly, without having to devote literally an entire Sunday to the task. Believe me, it actually is possible, and once you learn, it's a total freaking game-changer.
Now, trust me, meal-prepping is definitely still a commitment of sorts, and it can be a pretty big lifestyle change for some. But that doesn't mean it has to be intimidating, nor does it mean it's impossible for the average person to pull off.
Elite Daily spoke with Katie Dunlop — fitness guru, creator of Love Sweat Fitness, and meal-prep extraordinaire — who had some awesome tips for how to realistically fit meal-planning into an already packed schedule. From how to season your food properly, to cost-effective ways to shop at the grocery store, and everything in between, Dunlop does not disappoint. In fact, she's so good at meal-prepping, she can literally teach you how to get the job done in less than an hour.
Here are five ways to flawlessly meal-prep in the fastest, most efficient way possible, because you and I both know that microwaveable ramen just isn't cutting it anymore.