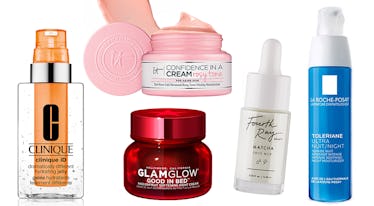 7 New Moisturizers Under $55 For Winter You Didn't Know Your Skin Needed
Clinique; IT Cosmetics; GlamGlow; Fourth Ray; La Roche-Posay
Everyone's skin reacts to seasonal changes differently, but for the most part, winter brings about a dryer, duller look for virtually everyone. That natural summer glow is nowhere to be found, and we have to turn to our skincare routines to really replenish and revitalize our complexions with help from the right ingredients. Fortunately, I can think of seven new moisturizers under $55 that your winter skin needed, like, yesterday, and I'm here to break them down so you can see exactly which one is worth your time based on your specific needs. If you're like me, you won't be able to resist a chance at more radiant, properly moisturized skin, so let's get down to business.
When you come home after a day out in the cold winter weather, it's tempting to skip your nighttime routine and jump right inton your warm, cozy bed. Fortunately, GlamGlow's new Good In Bed Passionfruit Softening Night Cream ($54, glamglow.com) will have you looking forward to your skincare routine, not avoiding it. This creamy moisturizer contains hyaluronic acid to plump, passionfruit oil to nourish, and gentle exfoliating acids to improve texture over time. Applying this at night will guarantee softer, more supple skin by morning — and all you have to do is hit the hay.
If you're a fan of IT Cosmetics and their original Confidence in a Cream moisturizer, prepare to be over the moon about the new Confidence in a Cream Rosy Tone Vitality Moisturizer ($48, qvc.com). This little pink dream is all about brightening and hydrating, and the rosy hue helps skin look less dull the second it's applied. Iris root, peony extracts, and lipohydroxy acid are also hard at work hydrating and improving dullness, and applying twice a day will result in a better, brighter complexion over time.
ColourPop's sister brand, Fourth Ray, have harnessed the hydrating properties of traditional moisturizers and put them into a completely new formula: Facial Milks. The Matcha Beauty Milk ($10, fourthray.com) is a creamy liquid that's lightweight and fast-absorbing, meant to be applied as a booster for particularly dull, tired skin. Matcha milk, jojoba milk, rice milk, white tea, and kale combine to give skin the antioxidants it needs to look replenished with just a few drops.
Nuria Beauty sources the best skincare ingredients worldwide, and they donate a portion of all sales to supporting girls' education, so they're officially one of my new favorite brands. Their Hydrate Revitalizing Jelly Night Treatment ($50, nuriabeauty.com) in particular is a must for winter weather, as it utilizes bilberries, native to Scandinavia, to give dry skin the intense hydration it craves. Bilberry is loaded with fatty acids and vitamins to revitalize your complexion, and it's paired with gardenia, spring snowflake, safflower, rosemary, and glycerin to ensure your skin feels softer and looks more plump with every use.
La Roche-Posay are experts in soothing dry and damaged skin, and their new Toleriane Ultra Night Face Moisturizer ($30, laroche-posay.us) is a must for anyone dealing with either issue — or both. This is a great pick for particularly sensitive skin types, as the ingredient list includes only the essentials, and the formula is tested on allergy-prone skin. It's also free of parabens, fragrances, and drying alcohol, instead prioritizing thermal spring water, neurosensine, vitamin E, and shea butter to soothe and restore.
Everyone's go-to moisturizer now comes in a fragrance-free version. The Olay Regenerist Micro-Sculpting Cream Face Moisturizer Fragrance-Free ($33, olay.com) is a front-runner for anyone looking for products with anti-aging properties. Hyaluronic acid, amino-peptides, and niacinamides are at play ensuring skin feels moisturized and plumped-up, while lessening the look of lines and wrinkles and firming the overall complexion. Seriously, what more could you want?
If your love of personalization goes beyond monogrammed makeup bags, the Clinique iD ($39, clinique.com) system is definitely for you. This new launch allows consumers to select a hydrating base and a concentrated active cartridge, and combine them together for your perfect moisturizer. Areas of focus include fatigue, lines and wrinkles, irritation, pores and uneven texture, and uneven skin tone, and there are 15 possible combinations to take advantage of.