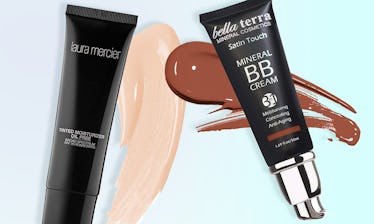 If You've Got Sensitive Skin, You Can't Go Wrong With One Of These Tinted Moisturizers
Bustle/Amazon
I love a good tinted moisturizer. They're the perfect intermediary between a basic hydrating cream and a foundation, with one not providing the coverage I want to cover my hyperpigmentation, and the other being heavy enough that I risk a break out every time I wear it. When you have fickle dermis like I do, finding the best tinted moisturizers for sensitive skin can be a real challenge — but that's why I've put together this list.
Whether you've got sensitive skin that's almost too dry to function (because the only thing I love more than skin care is a good Mean Girls reference) or you're looking for some extra concealing power for pesky pimples and stubborn scars, these tinted moisturizers are sure to provide relief for all types of sensitive skin.
Additionally, I tried to pick options with as wide a variety of shades as possible, because in a post-Fenty Beauty world, it's unacceptable for any tinted makeup to only provide whiter shades of pale. Unfortunately, many of the best tinted moisturizers and BB creams are from Asian beauty brands that only cater to lighter shade ranges, so when I tell y'all that I SCOURED the Internet to find viable products for folks of all skin tones, you better believe I really, really did.
Whether you decide on one of the two tinted moisturizers or the one BB cream I included as a bonus — yes, I know it's not a tinted moisturizer, but weren't rules made to be broken? — I guarantee that you'll close this tab having found the perfect product for your sensitive skin.