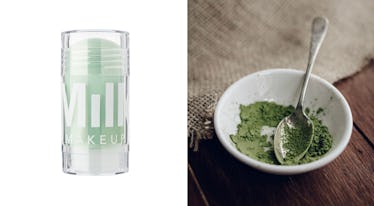 11 Matcha-Infused Beauty Products Under $50 That'll Give Your Skin The Ultimate Wakeup Call
Courtesy of Milk Makeup // Stocksy/Hung Quach
If you've ever ordered a matcha latte instead of coffee as a way to switch up your morning caffeine fix, then you're probably familiar with the smooth, yet powerful sense of energy you feel after sipping on the satisfying green tea drink. After all, matcha is the highest quality green tea available, and not only does drinking it provide way more nutritional benefits than coffee when it comes to your insides, but the strong antioxidant also provides a long list of benefits for your outsides, too. In fact, you've probably noticed matcha-infused beauty products starting to flood the shelves of your favorite beauty retailers because of all of the ways your skin can benefit from it.
Just like snaps of the trendy green drink can spruce up your Instagram feed, there's a slew of light green skincare products containing matcha that will spruce up both your selfie and beauty shelf. Whether you're eating it, drinking it, or applying it to your skin, matcha serves as an ultra-powerful antioxidant, which helps to slow down or even prevent damage to cells that would otherwise speed up the cell's aging process.
According to a study published in the International Journal of Molecular Sciences, matcha contains loads of a powerful antioxidant called EGCG, which helps to hydrate, reduce fine lines and fight off acne-causing bacteria when applied to the skin. Finally, the skincare agent is able to reduce inflammation considering it's also a source of caffeine. So, whether you're experiencing puffy eyes from lack of sleep or from bawling your eyes out while binge-watching This Is Us, slathering a matcha-infused beauty product onto your skin afterward will definitely help to keep the red puffiness at bay.
So, now that you know how the powerful source of caffeine works to treat your skin, read on to find out which products you should purchase to soak up all of these benefits — and all for under 50 bucks, at that.