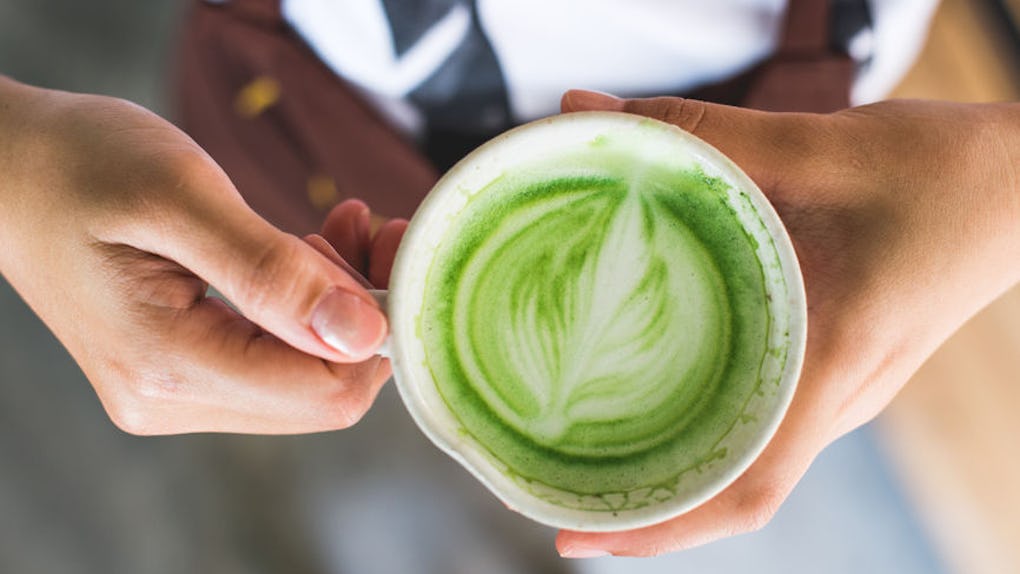 Chalit Saphaphak/Stocksy
35 Instagram Captions For Matcha Pics That'll Add So Matcha More To Your Aesthetic
Once upon a time, "foodtography" was just a clever play on words, but now, the hashtag is a legit trend, and at its forefront is a whole lot of donuts, egg yolk, and matcha. Personally, I don't know many people who haven't heard of matcha, let alone tasted the tea, but having Instagram captions for matcha pics at the ready is always the right move, because you never know when the opportunity to snap a pic before you sip will present itself. On the off chance you're one of the few millennials who aren't up to speed on the "it" beverages of social media, hear this: One upload of the bright green beverage is all it takes to redefine your feed for the better.
But earning that double tap is going to require a little more than a latte order and a talented barista (if you're lucky) to contrive heart-shaped foam for aesthetic, my friend. You know how they say a picture is worth a thousand words? Well, as far as Instagram's concerned, it's up to you to sum it up in just a few. No sweat, right?
Personally, I've always struggled with Instagram captions, and not for a lack of trying, wit, or cleverness, might I add, but for the simple fact that I'm wordy AF, and it can be super challenging to summarize the foodgasmic experience that is sipping matcha. Honestly, you could just type "mmm," and get your point across, but social media browsers tend to appreciate the few wordsmiths among us. So, to make sure your matcha caption is as fresh as a just-made mug full, here are a few phrases to play around with.
1. "Enjoying this so matcha." — Unknown
2. "It's not easy being green, but it's easy drinking green." — Unknown
3. "She say, 'Do you love me?' I tell her, 'Only partly' I only love my bed and my matcha, I'm sorry." — Drake
4. "I want to get matcha-wasted." — Grown Ups
5. "When the world has brought you down to your knees, matcha'll be there for you." — The Rembrandts (aka the Friends theme song)
6. "Matcha, take the wheel." — Carrie Underwood
7. "But first, matcha." — Unknown
8. "I'm lovin', I'm sippin', I'm drinkin' it up." — Ariana Grande
9. "Got my mind on my matcha, and my matcha on my mind." — Unknown
10. "Just one sip of you, I knew I'll never be the same." — Camila Cabello
11. "You can't get a cup of tea big enough or a book long enough to suit me." — C.S. Lewis
12. "When I'm walkin' with you I watch the whole room change." — Bruno Mars
13. "Peace, love, and matcha." — Unknown
14. "Ah, so matcha better." — Unknown
15. "Go green or go home." — Unknown
16. "Whoever said green is mean, never tasted matcha." — Unknown
17. "Put your matcha where your mouth is." — Unknown
19. "All I need in this life of sin, just me and my matcha." — Beyonce and JAY-Z
20. "I need matcha in an I.V." — Gilmore Girls
21. "Simmer down, mommy hasn't had her matcha yet." — Sex & The City
22. "Matcha over everything; matcha on my mind." — Drake
23. "You got me sippin' on something I can't compare to nothing." — Selena Gomez
24. "Going to need matcha more of this." — Unknown
25. "Where there's tea there's hope." — Arthur Wing Pinero
26. "Matcha: Because anger management is too expensive." — Unknown
27. "My blood type is matcha." — Unknown
28. "Happiness is matcha over ice." — Unknown
29. "You can't buy happiness, but you can buy matcha, and that's kind of the same thing." — Unknown
30. "It's tea o'clock." — Unknown
31. "Matcha is a hug in a mug." — Unknown
32. "Today is a multiple cups of matcha kind of day." — Unknown
33. "First I drink the matcha, then I do the things." — Unknown
34. "All you need is love (and matcha)." — The Beatles
35. "Keep calm and drink matcha." — Unknown