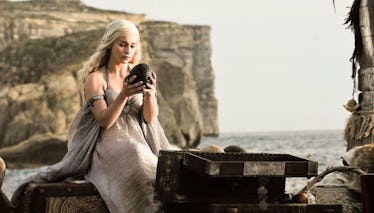 7 'Game Of Thrones' Spinoff Ideas HBO Should Def Consider
HBO
With the 10th anniversary of Game of Thrones upon us, there will inevitably be dozens of thinkpieces about how it ~changed television~. But the real story, IMO, is how the show will continue to affect the future of the medium. The series, which was the first show to grow its audience exponentially, every season, for eight seasons, isn't just a record-breaker. It's a franchise foundation. With HBO Max racing to keep pace with Disney+'s output of content, it's looking more and more likely that a whole bunch of GOT content is coming. These Game Of Thrones spinoff ideas are just a few of the ones fans would love to see get made.
HBO has been working toward "the next big GOT" since even before the original series ended. About a dozen prequel or spinoff ideas have been bounced around at one point or another over the last four or so years. The problem, of course, with finding the next Game of Thrones is that Game of Thrones wasn't Game of Thrones until a lot of people took a lot of incredible, high-flying risks. Spinoffs are, by their very nature, safe bets. That makes finding the next Game of Thrones among these ideas difficult, although not impossible.
Luckily, HBO has signed author George R.R. Martin to a massive deal to develop more shows for the network over the next five years. And one prequel, House of the Dragon, is already heading to production for a 2022 premiere.
But what other shows should HBO consider? Let's run down the top contenders among the fandom.