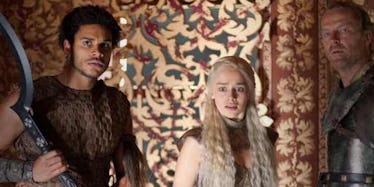 'Game Of Thrones' Spinoffs Are Officially In The Works, So Start Freaking Out
HBO
The game is about to get a lot bigger!
HBO is currently looking into four — you heard me right, FOUR — different spinoff series for its mega-hit "Game of Thrones." So polish your armor and make sure your dragon is fed, because it sounds like we're going to be staying in Westeros for a loooong time.
HBO has just signed on four writers to each draft their own spinoff series to "Game of Thrones," Variety reports.
And, in what feels like an all-too-fitting fashion for the series about warriors fighting for the Iron Throne, the best scripts will be made into series and the worst will be axed.
Or hey, maybe all four will be amazing and we'll have four brand-new "Game of Thrones" series!
This news couldn't come at a better time for "Game of Thrones" fans since the show is scheduled to come to an end after next season.
Season 7  will premiere on July 16, and then a shortened six-to-eight-episode season 8 will conclude the show likely sometime in 2018.
The new spinoffs will explore different time periods in George RR Martin's "Game of Thrones" universe, and Martin will remain attached to the projects, though he won't write on them.
As for the four writers with the future of Westeros in their hands, they all have experience in crafting huge, spectacle shows and movies: Max Borenstein ("Godzilla," "Kong: Skull Island"), Jane Goldman ("X-Men: First Class," "Kingsman: The Golden Circle"), Brian Helgeland ("A Knight's Tale," "Legend") and Carly Wray ("Mad Men," "The Leftovers").
As you can probably already tell from looking at a few of their best-known works, all four writers have very different proficiencies and styles.
So even though all four of the spinoffs will be based on "Game of Thrones," don't be surprised if you get an epic, CGI-filled monster fest from one and a sleek, character-driven drama from another.
Anyway, these guys are just getting started on their scripts now, so we'll have to wait a bit before we see which ones are going to be made into series and what they'll even be about. But still, get excited — it's happening!
Citations: 'Game of Thrones' Spinoff in the Works at HBO (Variety)