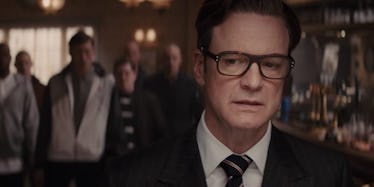 New 'Kingsman' Trailer Has Huge Detail About Colin Firth And Fans Are Losing It
20th Century Fox
Warning: There are major "Kingsman: The Secret Service" spoilers ahead, but if you haven't seen the 2015 movie already, I do not pity you, for you are stupid.
The first full trailer for the highly anticipated "Kingsman" sequel, "Kingsman: The Golden Circle," dropped last night, and OH BOY, WAS IT WORTH THE WAIT.
Seriously, the trailer itself is better than most of the movies I've seen in the last year. When I'm done writing this article, I'm going to crawl into the fetal position and sob because this trailer makes me weak.
I AM NOTHING. TARON EGERTON AS EGGSY IS EVERYTHING.
I used to hate orange, but now it's my favorite color.
Sliding into your DMs like...
End me.
Now, fans of the movie already know that Colin Firth's character, Harry (aka Galahad), was killed by Samuel L. Jackson's character near the end of the first movie.
It was heartbreaking for viewers because we spent most of the movie falling in love with Harry and Eggsy's bond, and they just SHOT HIM IN THE HEAD.
Most of the time, when someone gets shot in the head, they're, like, objectively dead. But according to Harry himself in the first teaser for the sequel, "reports of my death have been greatly exaggerated."
WHAT DOES THIS MEAN, COLIN? ARE YOU COMING BACK OR NOT???
Ever since the sequel was announced, fans have been dying to find out if Harry is actually dead or not. Because -- let's be real -- it'd be really hard to have a "Kingsman" movie without Harry.
The new trailer opens up with narration from Harry himself speaking directly to Eggsy.
"Eggsy, I saw in you what someone once saw in me...
...something that can't be taught: the makings of a Kingsman.
Being a Kingsman is more than the clothes we wear or the weapons we bear...
...it's about being willing to sacrifice for the greater good. I hope you're ready for what comes next."
Apparently, "what comes next" is the total destruction of the Kingsman headquarters...
NO ONE WAS READY FOR WHAT CAME NEXT, COLIN FIRTH.
The rest of the trailer is jam-packed with kickass fight scenes featuring Eggsy and fellow Kingsman spies against what appears to be the American version of the Kingsman: the Statesman.
As is Jeff Bridges, and also Julianne Moore is their boss (?).
Halle Berry is also there.
As is this guy, but I have literally no idea who he is.
But what fans really wanted (read: needed) to see came at the very end.
HARRY! GALAHAD! COLIN FIRTH! HE'S ALIIIVVVVVVEEEEEEE!!!
And he... has an eye patch?
And then, Twitter broke into hysteria. Same, tho.
HARRY AND EGGSY ARE BACK. I AM WEAK, Y'ALL. I AM WEAK.
I want Taron Egerton to look at me the way he looks at Colin Firth.
"Kingsman: The Golden Circle" comes out September 22, 2017 WITH COLIN FIRTH COMPLETELY INTACT.