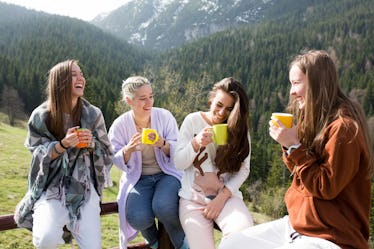 7 Galentine's Day Traditions To Start With Your BFFs Now & Continue Forever
Boris Jovanovic, Stocksy
Let's be honest: Nothing seems to top celebrating your lady friends on Feb. 13. For those of you who don't know, Galentine's Day was founded by Leslie Knope from Parks and Recreation, who loves spending time with her girl crew and going out to brunch. She used the day as an excuse to eat waffles, give her besties handmade pillows, and consume lots of whipped cream. Now, it's your turn to start your own Galentine's Day traditions with your friends, and continue them forever.
The truth is, life gets busier and busier. One week you schedule is jam-packed with projects at work, kick-boxing classes, and lunch dates. The next week, your besties are running around to meetings and catching subways left and right, too. Together, you basically invented the hashtag #girlboss, so it's sort of inevitable.
That's where Galentine's Day and making new traditions comes in. It gives you the opportunity to slow down and spend time with the people who constantly inspire you and push you to be the best version of yourself. It gives you time to laugh over a plate of waffles, or the embarrassing stories from high school that will never get old. Doesn't that sound sweet? I'd say so! So, here's seven traditions you can start with your friends now, and continue forever.