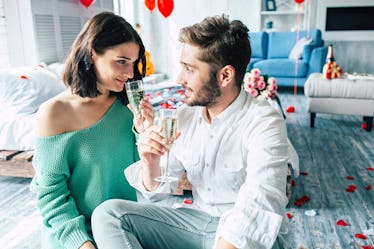 7 Gifts To Give Your SO For Your 1-Year Anniversary That Don't Cost A Thing
Shutterstock
You're dead set on giving your SO something special to celebrate one year together, but unfortunately, you're also on a super tight budget. As they say, it's the thought that counts, which means the best gifts don't have to come with a hefty price tag. In fact, there are a plethora of free one-year anniversary gifts you can give your partner that only cost a little time, thought, and effort on your part.
The key to coming up with an anniversary gift that will blow bae's mind is to give some thought to what's special or unique about your relationship. Better yet, take their love language into account. If your SO values quality time, for example, then planning a romantic homemade dinner will surely win them over. Or, if acts of service are the way they prefer to receive love, then you may want to consider how you could make their life easier.
A one-year anniversary is an exciting milestone, and you certainly want to show your boo that you value the time you've spent together thus far. The good news is, you don't have to drain your bank account to do that. Here are a few gifts that don't cost a cent, yet are essentially guaranteed to leave them speechless.