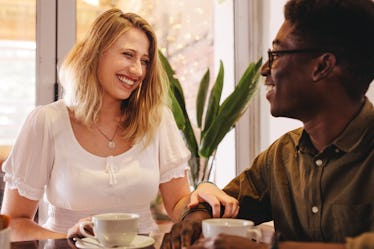 7 Dating Behaviors That Mean They Want To Get Serious, According To Experts
Shutterstock
For the life of me, I can never seem to spot the dating behaviors that mean they want something serious. Logically, I know relationships can begin in different ways and play out on their own timelines. Yet, I often find myself four months into an ambiguous situationship with no DTR in sight. It's like there's a sign on my face that says "casual" when, in reality, it should read "black-tie required." Curious about how to spot a potentially serious from the get-go, I decided to consult the experts.
According to Susan Winter, New York City-based relationship expert and love coach, understanding your date's intentions early on can help you find the types of relationships you're looking for. "You can't earn your way into a relationship if your partner doesn't want one," Winter tells Elite Daily. "No matter how long you 'audition' for the role of partner, that position isn't available. Cull out the people who aren't on the same page, and focus your attention on those who want what you want."
Here are seven behaviors that mean your new boo is trying to define your relationship. Look out for them, so you can take your connection to the next level.