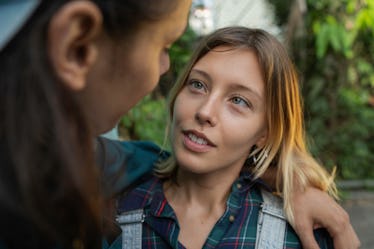 If Your Date Does These 5 Things, They Probably Want A Casual Relationship, Experts Say
Being single and actively looking for someone special can take a lot of energy. Maybe you're on dating apps, or maybe you like being set up by friends. However you got there, being on a date with someone new can be intimidating, exhausting, and thrilling all at the same time. If you still don't quite know where your date stands, there can be a lot of unknowns and plenty of anticipation as you try to figure out whether or not your date wants a casual relationship, or something serious. If you're looking for something more serious, and your date's not, then this might probably be a deal-breaker for you. But how can you tell what sort of relationship your date is after?
"It's important to realize that everyone you meet isn't on the same page as you are when it comes to relationships," online dating expert Julie Spira tells Elite Daily. "You might have spent six months recovering from a breakup, where they're still hanging on to an ex they can't stop thinking about."
It's normal to be dating someone who isn't quite ready to commit, and that doesn't mean that they'll never want something serious. But, there are definitely signs that your date isn't exactly on the same page as you when it comes to a future relationship. Here's what Spira says to look out for.