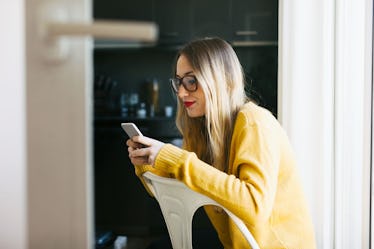 How To Tell Someone On A Dating App You Want Something Serious, According To Experts
Dating apps tend to get a bad rep as places you go when you're looking for casual relationships. It makes sense; so many options just sitting in your pocket, waiting to be swiped on! But telling someone on a dating app you want something serious isn't impossible, even though it can be a bit tricky. There are plenty of people like you who are looking for something less casual, and they're on dating apps too. So if you swipe right on someone you find attractive, you hit it off, and you want to make your intentions clear from the get-go, look no further.
In order to attract someone with similar interests, and to make sure you and your match are on the same page, putting yourself out there and being honest about what you want is the best way to go. But just because it may be a little scary, that doesn't mean you shouldn't do it! After all, there is nothing wrong with looking for a real love, so don't be afraid to speak your truth. I enlisted the help of some experts to help navigate these tricky dating app waters. Here is how they say to let people know that you're looking for something more serious.