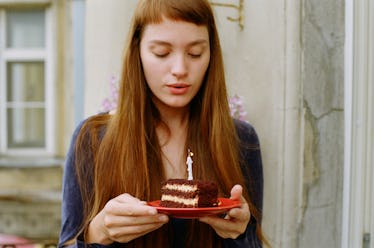 7 Attainable Birthday Wishes To Make That Could Actually Come True This Year
Cheers! It's your birthday, and whether you're excited to go out or stay in with your girls and eat your favorite kind of cake — this year is going to be all about you. You're 20-something, so the possibilities are endless in your life — and even if you find yourself struggling, you're proud of where you've been and what's to come. Maybe you're throwing a big bash with all of your friends and family, or are sticking to something more low-key like a slumber party. Before you blow out your candles, I hope you consider these birthday wishes to make that could actually come true. After all, it would be pretty sweet to live out your dreams this year.
You've been thinking about what you might wish for for at least the past week, and seriously wondering if asking to meet John Stamos is too much. Truth is, if you want your birthday wishes to come true, you might need to stick to something more simple and attainable. The best things to hope for can still be huge, and also created by your own two hands. Nobody wants to be disappointed when their celebrity crush doesn't show up for cake with the most perfect present — and unfortunately, we don't have control over Uncle Jesse's schedule.
Honestly, you're probably the best at giving gifts, because you know exactly what your besties would love. Thinking about yourself isn't as easy, but when it comes to blowing out your candles, I've got you covered. These seven wishes could totally come true.