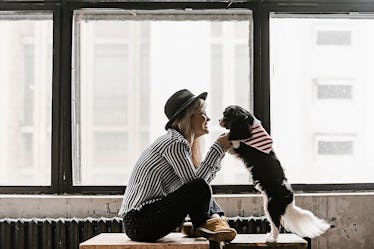 8 Essential Things To Know Before Welcoming A Pet Into Your Adult Life
Alina Hvostikova/Stocksy
Always show up to life prepared, especially if you're getting a pet. This motto really is so tried and true. Think about all of those tests you took where you brought an extra pencil, just in case. Your classmate probably ended up needing it, and you became sort of a school supplies hero. Whether you're thinking about getting a cat, dog, hedgehog, or another oh-so-cute companion, there are some things to know before getting a pet that'll make you the perfect animal parent in the long run.
Like any relationship you have in life, it's very much work hard and play hard. No two pets are the same, and will require different kinds of attention and care (You can't quite play fetch with a fish.) You'll want to learn all the ins and outs of what your new -- possibly furry -- friend needs before bringing them to their forever home.
Maybe you had a pet growing up, so you sort of know the ropes and responsibilities that come with have an extra family member. What's different now, is that you're the adult. Your pup will be looking at you with those adorable eyes when they need something instead.
So, go for a little shopping spree at the pet store for toys and treats, and study up on what your new roommate needs to live their best lifestyle. These eight things are a great place to start so that you're prepared for your new pet.