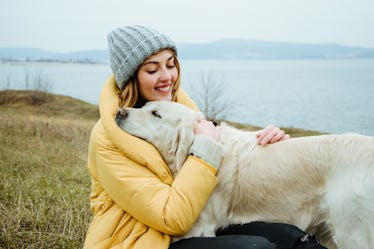 8 Traditions To Start With Your Pet ASAP, Because Who's Sweeter Than They Are?
They're furry, they're adorable, and they're always ready to brighten up even the gloomiest of days. I'm quite pawsitive that your pet is the perfect companion you could have ever asked for. We would give the sun, moon, and all of the stars to our cat or dog if we knew it was possible. Any pet you have deserves all the love in the world from you — and you don't need convincing from me. You know it's true, and you would probbaly drop everything just to make your pet feel special. That's why you need these traditions to start with your pet as soon as possible.
Traditions are a nice way for family and friends to get together and spend some valuable time with each other. You probably have a ton of traditions you cherish throughout the year, from hosting a potluck Friendsgiving party, to going out someplace special for dinner on your birthday. When you think of your loved ones, your pet comes to mind, too, so you need traditions to show them they are just as much part of your family. Actually, these eight traditions will make your furry friend feel totally loved. It's like the ultimate belly rub or chin scratch. Not only will your pet love spending time with you, but you will love sharing these memories with them.