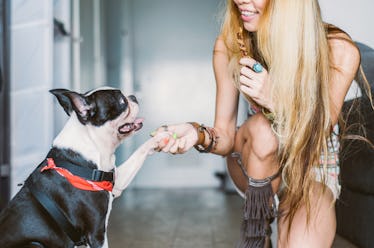 If You're An Extrovert, These 6 Playful Pups Will Make The Best Companions
Jovo Jovanovic/Stocksy
Stay paw-sitive, extrovert. There's a playful pup out in the world just waiting for you. Like you, our furry friends often get the reputation of being great companions to their crew and can be energetic as ever. You love the social scene because it gives you a lot of life, and it's time to add another sidekick to your squad. The best kinds of dogs for extroverts will be lot more lively, a little clever, and ready to cuddle at all times.
Being an extrovert means you get all of your energy from outside sources. Unlike an introvert, you hate spending time in your solitude and find comfort in a crowded room. When you're stressed, you'll choose a Saturday night out surrounded by your squad over a chill Sunday watching TV — and you rarely take a moment to let your mind wander into silence. Sure, participating in some mindfulness might do you some good. After all, it's important that we slow down and stop living by our schedules sometimes. But you keep your life busy and your best friends love that you can strike up a conversation no matter what the situation.
As an extrovert, you've probably been told more than once that you're super social. This doesn't make you any less independent. You just love to follow the good vibes that are already out in the world instead of finding them within your inner self. A canine with just as much spirit will speak to your extroverted soul. Here are six pups you should probably pick up, and they will come ready to play.