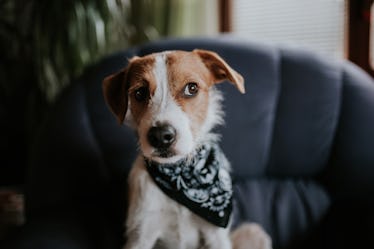 If You're An Introvert, Here Are The 7 Types Of Dogs You Should Consider Getting
Boris Jovanovic/Stocksy
There's a perfect pup out there for everyone. It's like finding that special someone, or the perfect pair of jeans (Let's be real, it's hard to find something that's comfy and cute.) Sometimes it takes awhile to find the right fit — but when you do, oh boy, is it sweet. In this dog-eat-dog world, it's nice to have a sidekick. Introverts are known for loving their solitude, but that doesn't mean that they have to be dog deprived in the process. The best dogs for introverts are equally cute and calm, and love to play and snuggle all the same.
Introverts often get a bad rep. They're seen as the quiet ones who don't talk much in class, or the friends in the crew who'd rather sleep and study than spend a night out with the rest of the squad. But, before you start believing the stigma, let me give you the real scoop.
Unlike extroverts, introverts find energy from within themselves. They appreciate their solitude and time with their thoughts, and aren't being quiet in an attempt to be rude or distant. Instead, they are simply taking time to get back to themselves, and get grounded in their minds and personal core. Where extroverts find their peace of mind from being in a crowded room, introverts would rather just take some time to hang solo in chill surroundings. We all have different ways of recharging, and for introverts, the most intense inspiration comes from their inner being.
If this sounds like you, then you've probably on more than one occasion wondered if a pet would cramp your style. Having a peppy pup around doesn't sound super ideal, and you're unsure if you want something to be so dependent on you. But, before you start claiming that solitude rules and dogs drool, consider welcoming one of these canines into your life who will speak to your introverted soul.