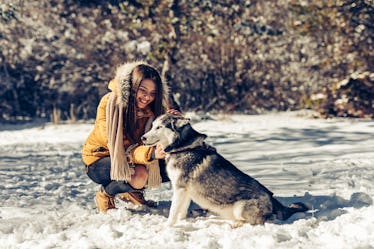 30 Captions For Your Pup Playing In The Snow That Are Paws-itively Heartwarming
chabybucko/E+/Getty Images
Dogs are truly a blessing and always fill your family with so much joy. From their cute, wet noses to the unconditional love you see every time they look into your eyes, you look forward to spending as much time with them as possible. Snapping away to capture all the great times you have together is a given, and this winter is no exception. While playing outside or just taking a long walk together, you'll definitely need some Instagram captions for photos of your dog in the snow, and we have you covered.
A beautiful, snowy white backdrop gives you the chance to show off your cute matching winter gear along with all the outside toys you'll play with. A snowfall also makes for quality action shots while making snow angels or simply playing fetch. Hey, your pooch might even like to pose for a few snow tubing pics in the backyard together. Or, maybe they'd love to do some serious cheesin' while sitting next to a snowman that you put together. 'Tis the season to get creative with your main fluff, and these Instagram captions for photos of your dog in the snow will warm your heart and fill your feed with sweetness.
So, gear up, make sure your pup is as warm and cozy as they can be, and get ready to spread that puppy love on your Instagram feed this season. Playing in a winter wonderland is always a good time, and your dog will be such a fun part of it.
1. "My dog is snow cute."
2. "Screw black diamonds, my dog is my best friend."
3. "Pawsitively chilly."
4. "You know Dasher, and Dancer, and Prancer, and [insert dog name]."
5. "There's snow angel cuter than my pup."
6. "All bundled up, me and my pup."
7. "Thick coat made for snow playin' and warm huggin.'"
8. "Snow brings out the child in me and the puppy in him/her."
9. "The dog days of winter."
10. "Whose snow angel is better?"
11. "My real bestie."
12. "It's ruff out here today."
13. "'Go play in the snow,' they said. 'It'll be fun,' they said."
14. "Merry Christmas and a woofy new year."
15. "There's snow place like home with my pup."
16. "When I needed a hand, I found your paw."
17. "On snow days, we wear pink."
18. "You can't sleigh with us."
19. "Snow ballin'."
20. "Nobody's cooler than us. It's freezing out here."
21. "My pup's sweeter than hot chocolate."
22. "Winter has been ruff this year."
23. "Bark! The herald angels sing."
24. "The snow unleashed our inner happiness."
25. "Santa Paws."
26. "May your days be fluffy and bright."
27. "Oh Christmas pup, oh Christmas pup!"
28. "Keeping things cozy."
29. "The Snoopy to my Charlie Brown."
30. "After this, we're having cookies and Milk Bones."
This article was originally published on