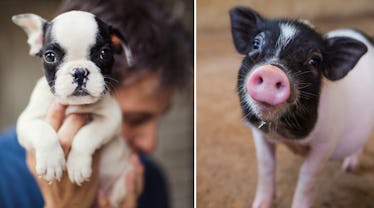 The Kind Of Pet You Should Adopt This Year, Based On Your Zodiac Sign
Who let the dogs out? Did we ever really find out the answer to this question? Whoever it was, we don't really mind. Having a bunch of fluffy friends running around sounds like sort of a dream come true. Truth is, having any animal around is incredibly ideal and upgrades our lives like no other. Like April from Parks and Recreation says, sometimes animals are just better than people. At the end of a long day, it's nice to come home to a furry, or not-so-furry friend, and you might be wondering where to start. According to your zodiac sign, the kind of pet to adopt this year is simple.
Your oh-so-cute soulmate is written in the stars. Sure, it would probably be in your best interest to do a little research -- finding reliable breeders, care information, and buying supplies is all crucial before bringing a pet into your home. However, once you've checked all that off the list, it's time to adopt a forever friend -- and they'll be so happy to have you.
Pets can be incredibly therapeutic. Aside from the ones who are specifically trained to be therapy animals, having something that isn't a human around teaches not just responsibility, but love and compassion. If you're feeling like your life needs this upgrade, it's time to add an animal into your equation. Here's the kind of pet you should probably adopt this year.