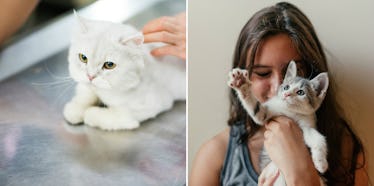 The Kind Of Cat To Welcome Into Your Life This Year, Based On Your Zodiac Sign
Lawren Lu/Melanie Defazio/Stocksy
Stop everything right meow. It's a new year, so why not bring something else a little new into your life? The cold winter months call for the cuddliest of companions. Sure, dogs are pretty great for taking on all your wildest summer adventures. They rarely say no to a challenging hike or a road trip. But where dogs drool and cats rule is in napping, and nobody will snuggle up with you on a snowy afternoon quite like a kitten. You might be struggling to find the purr-fect pet, so here's the kind of cat to get this year based on your zodiac sign.
It won't be too hard to find the feline for you. Like dogs, cats have a lot of different breeds, but they're all fairly similar. Some will be more quiet and protective, and others will be your classic Garfield cat — lazy and lounging on the reg, just maybe minus the lasagna. But all in all, they'll be cuddly just the same.
Cats are sometimes the most ideal pets because they generally take care of themselves. They'll be the cleanest roommate and lowest maintenance relationship you'll ever have. Your new furry friend won't require the strict schedule that some canines crave -- just some quality play time and catnip. That's not too much to ask, right?
So stay paw-sitive. You're so close to finding the perfect cat companion. Here's which kind of feline you should probably find, according to your zodiac sign.